---
---
PAINTING at KATAHDIN LAKE with the MAINE YOUTH WILDERNESS LEADERSHIP PROGRAM Students



"Katahdin After A Thunder Storm at Katahdin Lake" a watercolor 19 x 25 inches by Michael E. Vermette

On August 8th I hiked the 3.8 mile hike to the Katahdin Lake Wilderness Camps that overlook from a bluff, Katahdin Lake in Baxter State Park. I had only my camera and cell phone on me as I tanked up with water before leaving at the Avalanche Field trailhead. I took momentary refuge in the outhouse there because it began to rain. Not the greatest outlook for what I hoped to do on the day and the next day. But when I decided to go there was no turning back. The weather improved the further I hiked on the trail with the sun finally broke through. Then I heard the plane fly overhead carrying my equipment with a drop off at the lake's only dock. No doubt there would be plenty of hands to help with the unloading and loading of the plane. There was a Boy Scout troop that was in the Camps working on several merit badges including wilderness survival. When I arrived sure enough the staff and the scouts had helped to bring my three bags to my favorite cabin, the "Traveler,"an old guide's cabin I have taken a liking too over the years. I Met with Holly Hamilton the Camp guide and her friendly staff briefly before heading out with a canoe to do some scouting of my own of the beaches on the south-east end of the lake. The wind continued to blow across the lake from the north and it reminded me of another time I took an hour to paddle to the North Shore. But not today. My plan was to do a watercolor at Painter's Beach which is the furthest beach on the southeastern end of the lake. I set up my easel and began drawing Katahdin starting with the Knife-Edge. I always use my small binoculars to study the shapes. I didn't bring my coat because It was warm enough and sunny. But soon after I arrived the wind picked up and I realized a storm was brewing that would be upon me before I could even paddle back to the camps. I had seen these thunder storms move quickly before when I hiked East Turner Mountain. I got soaked that day and I knew I had to think quick. So I broke down my easel and stowed my painting. Then I pulled my canoe up onto the beach, flipping it on my back and propping one end of it on a rock. This canoe was going to act as my shelter from the down pour. An eagle flew over my head just above the tree tops and eventually took cover in the thick spruces across from the beach. And sure enough the sky opened up and it poured for about a half hour. But I was dry with all of my gear underneath the canoe. Then after it passed the sun slowly came out and I was able to finish the watercolor painting I had started earlier above. It never rained again that day and even though I was alone, I kept my head and was rewarded with a great image.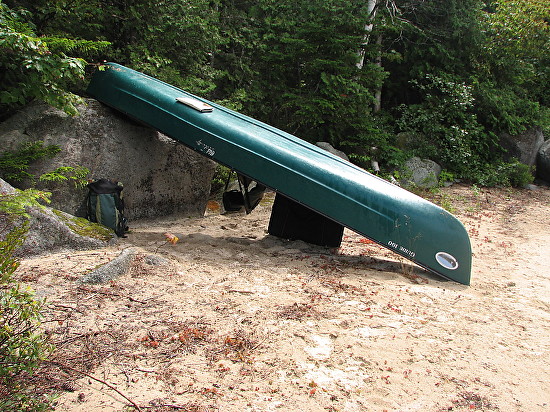 My canoe propped up upon a rock to act as a temporary shelter to keep my equipment and me dry.

The whole reason why I was determined to paint a watercolor that day was to have an example to show the Maine Youth Wilderness Leadership Program students that I would be teaching the next day. My plan was to expand my watercolor class I did last year by including a canoe excursion to all three of the main beaches that painters in history actually used. I wanted them to stand in the very footsteps as such great painters as Frederick Church, Marsden Hartley, and James Fitzgerald. Fortunately I have reproductions made by each of these painters painted on essentially all three beaches. But I decided to name each beach after an artist with the farthest beach for example, becoming the Frederic Church Beach rather than Painter's Beach and so to with the other beaches. They would become in my class the Marsden Hartley Beach, The James Fitzgerald Beach and The Frederick Church Beach. When I got back to camp I was dry but tired so I rested up, knowing the weather would improve the next day. Holly and I met together after supper to plan our day. It was great to have a time to talk with her about how things were going. There was a very dramatic sunset, but I saved my last large sheet of watercolor paper for the Alpine Glow (The first Light upon the peaks of Katahdin) early the next morning.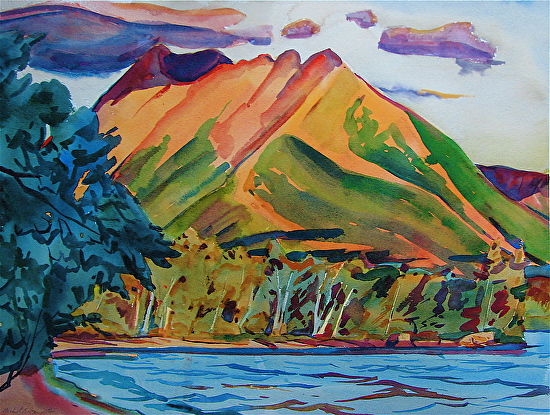 "Alpine Glow In August, Katahdin Lake" a watercolor 19 x 25 inches by Michael E. Vermette

The next morning I got up at 5:00 am and made my way behind the large cabin to a trail that lead to the beach we all refer to as the Marsden Hartley Beach. I sat on the board that many painters have sat proped between shore rocks with an excellent view of Katahdin. The alpine glow is not as bright as it usually is in winter but it still has the full color of summer, particularly in the variant greens. Everything that the sun is reflecting from has a dominate pinkish orange glow that yields superb contrasting maroon violet accents. The water is mostly reflecting indirect light an appeared iridescent turquoise against the cool overhanging trees in the shadow. I finished at 7:30 am and prepared for the students to arrive. The boy Scout troop that I had got to know left before the Maine Youth Wilderness Leadership Program students arrived. They reached the camps later than last year by 11:00 am. Because of this my schedule had to be adjusted and so would Holly's. But I would not change the sequential order in my lesson plan, just the timing of when it would be taught. I began with an introduction after they all got water and met Holly and the camp staff. I explained to them how beauty can save our world and how many land trust organizations throughout america are holding wet paint plein air auctions to raise funds to buy land to preserve for future generations. We have such an auction in Maine through the Cape Elizabeth Land Trust. I continued by showing them my two large watercolor that I had done the day before and this morning which became more tangible to them than reading off a litany of my credentials. Then I put the challenge to them to consider that they too are all artists capable of creating beautiful paintings being found in such a beautiful place as this. I explained how 16 painters once had an auction to help save Katahdin Lake; to ultimately be included as the crown jewel of Baxter State Park.

But their eyes really opened wider when I started to treat them as artists and handed out brand new top quality art materials that were donated by Blick Art Materials at http://www.dickblick.com to complete their assignment for the day. I worked with Sherry Godsil the donation Program Coordinator for Dick Blick who said,

"Blick Art Materials is pleased to assist the Friends of Baxter with their current project. (namely the painting project at Katahdin Lake for the Maine Youth Wilderness Pprogram students) Enclosed are the painting supplies that we previously discussed. Thank you for your interest in Blick Art Materials and we are pleased that we were able to assist you! If there is anything else we could do for you in the future, please do not hesitate to contact us."

We got the same response from Daniel Smith Artist Materials who generously provided watercolor tubes of paint to complete and round out their 12 color palettes.

They received folding watercolor palettes, watercolor paint and a brand new watercolor brush. I donated the 300 Lb watercolor paper and boards to paint, enough for each student to have two sheets to make two paintings. I created watercolor painter kits with miscellaneous supplies including pencils, erasers, cups for water ect..for them to use on site that were in plastic waterproof boxes with extra-large freezer bags to use as waterproof portfolios.

When we arrived at the beach in front of the cabins I had already set up to save time. They proceeded to watch my demonstration. I discussed with them that I would demonstrate everything that I expected them to do which included a 15-minute quick sketch called a watercolor "Quickie". I had one of the students time me as I talked them through it and completed a watercolor sketch. Then I asked them to do it and that I would time them giving them an extra 5 minutes for a total of 20 minutes of painting time. When every one was ready to go I said: "Begin" and everyone participated as they were given as much artistic license as they may have required. My aim was to expose them to a process not make them work a particular way. The only requirement was that they had to paint without drawing with a pencil first. After the 20 minutes was up I stopped them and we had a very short critique. I figured they didn't need a long critique because they hadn't painted too long. They were amazed at what they created in such a short period, everyone's painting different and unique. Then after a brief deliberation with the councilors we came to an agreement that you can't teach students on an empty stomach, so we took a break for lunch and the student cheered at the thought of eating a home cooked meal by Rachel and her kitchen staff. But before I let them go I had then all promise to come back and paint one more painting with me and they agreed.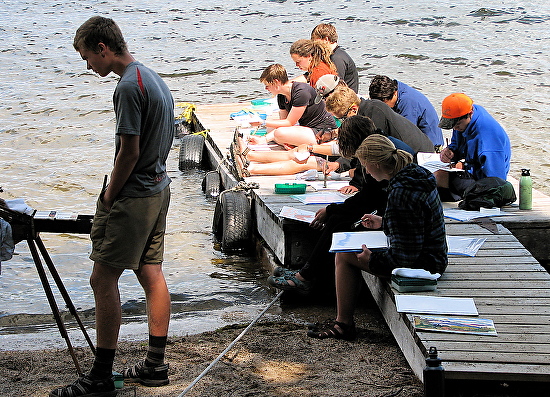 The MYWLP students painting Katahdin at the dock in front of the Katahdin Lake Wilderness Camps.

During lunch I got word from Holly that the plane would be landing at the camps in just minutes. So I ran to my cabin and packed everything into the bag the students' art materials came in and the paintings went into my large portfolio to fly out so that I wouldn't have to carry them along with everything else I had to carry. There would be no later flight that day so I had to make the best of the situation since I knew I would be hiking out with all my gear alone. The plane came and landed in its dramatic fashion and almost as soon as he came he was off again with half of my gear. All I now had to carry was my camera and watercolor back pack.

After lunch at about 1 PM in the afternoon, I met with the students again to give them the afternoon assignment. I wanted to take them in canoes and kayaks to the three famous beaches where painters in history had painted. There was a concern whether they would be able to paint for two hours so I lifted that requirement and gave them the choice to paint at least up to an hour. They agreed and some painted close to the camps at the Hartley Beach, some further at the Fitzgerald Beach and still others with me at the Church Beach the furthest down at the southeastern end of the lake where I painted the day before. Each group had about 4 students that also included a counselor or instructor and students couldn't swim until they all came back together. But they could wade up to their knees if they finished early.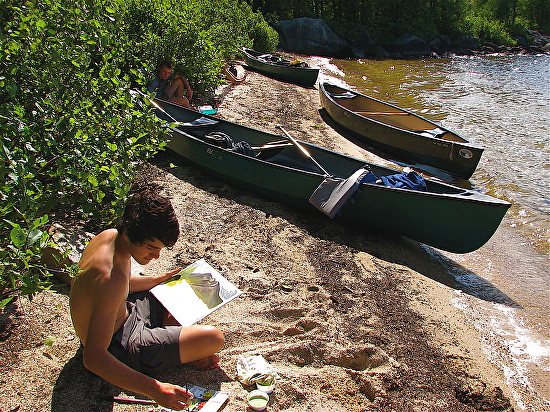 Painting on Fitzgerald Beach after paddling out to the location.



The wind had picked up which made paddling slow going. But all of us made it to our destinations. My plan was to reach the farthest beach with the students that wanted to paint the longest time and after setting them up, go back and visit with the other students. But I also had to paint another watercolor that was this time a study. The assignment included the use of pencils and an eraser so that students could study and pre-plan where their watercolor washes would go. I painted a 1-hour study so that I could use the 2nd hour to meet up with all the students on location. This didn't happen of course because I didn't have enough time to go all the way back to the first beach and then back again to the farthest beach to pick tell them it was time to finish and pick up. Fortunately the ones who chose the farthest beach all used kayaks which fared better in the wind and waves.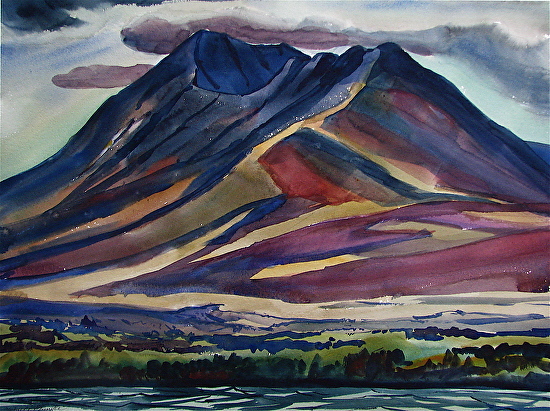 "Katahdin From Frederick Church's Beach" a watercolor study 11 x 15 inches by Michael E. Vermette

But then as the hours seem to fly by something amazing happened. It was just as I hoped would occur. The students all began to make a connection with Katahdin itself. An hour went by, then another hour, then a third went by and they were still painting. Whether it was how the mountain seemed to rise up high above the trees on the shoreline the farther you get back from it or the absolute gift of giving them the time to be alone with their subject; they all went way over their time finishing at 4 PM in the afternoon. Even they were amazed at how time seemed to fly by as the mountain placed them under it's majestic influence. I knew right then and there that I helped to facilitate a greater class that what had planned for. It was beyond what I could have made happen. These students had a heartfelt experience with Katahdin who chose to show her glorious beauty to them. That day they all joined that long line of painters in history who had made a similar connection and muse.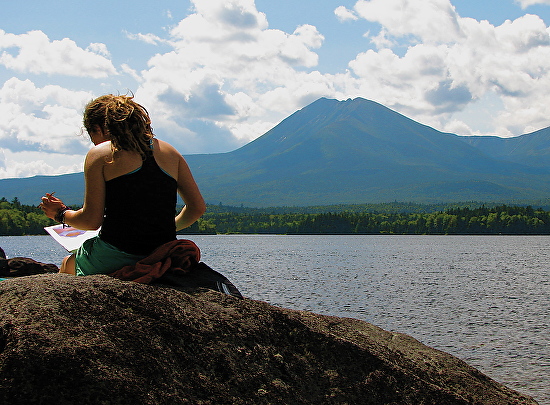 Painting the view Frederick Church Painted at what we named Church's Beach.

At four in the afternoon I began pulling students off the beaches and we returned for our last critique. Their art was amazing and nothing but positive energy filled the beach as even guests got drawn in to the beauty they created in their paintings. People often wonder why I teach, why I even bother with students since I could make a better living as a full-time painter. Well this is why, and I can give you 12 reasons why imparting into the future feels so good. And I like so many of the other instructors who have imparted their knowledge into this future generation of leaders must have felt, was so humbled and proud to leave them with a genuine love of Baxter State park and Katahdin as seen from what is considered the Crown Jewel of the park.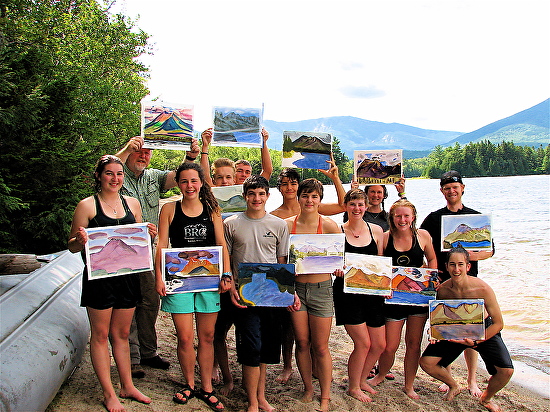 The MYLP Students, councilors and instructor displaying their second and final painting just before their afternoon swim.

It was most fitting that these students would end there program here. They had spent a week going from one campground to another. I shook every one of their hands and told them they were now Katahdin Painters. I gave my quick sketch and study to the two councilors for helping me with the day. Then I packed up and left them all to their swim. For the experience was all theirs and they btruely earned a refreshing afternoon swim under the shadow of the mountain they had just painted.

Remember everyone; beauty really can change the world! The very best to you all,

Michael E. Vermette
Artist and Instructor of the Maine Youth Leadership Program
A Friends of Baxter


Comment on or Share this Article →
---
---
---
---
---
---
---
---