---
---
---
---
---
---
THE PLEIN AIR CONNECTION NEWSLETTER February 24th, 2014



"Wintery Headlands, Monhegan Island" an oil on gypsum panel 12 x 16 inches by Michael E. Vermette

Once again I would like to welcome all of our new members who have joined this newsletter since I've been away on Monhegan Island. This is what we did.

The plein Air connection went to Monhegan Island for their first outdoor painting trip of the year between Wednesday February 19th and Friday February 21st, 2014. The artists who went over were Kay Carter, Linda Stearns, Becky Whight, Nora West, Troy Sands, myself and guest artist Renee Lammers. Most of us were oil painters except for Linda who worked in pastels and Troy who created beautiful digital photographs.

Becky and I stayed at Kay's house the night before to get an early start on the day. We shared a wonderful soup and salad after we participated in the quaker style of prayer of pausing in silence for one minute in thankfulness. We liked this so much we decided to do if for all the meals we took together for the weekend. It helped to bring a focus to our day. Linda and Troy met us at Kay's house where we packed food and equipment and ventured out in two vehicles early that next morning by 6:30 am.

It had snowed a few inches of powder that night before and the moon was out signifying that the day would clear or at least there would be good visibility. I awoke that Wednesday morning with a start as the snow plow blade dropped plowing the driveway. Kay Carter's husband Daryle shoveled and I cleaned off Becky's vehicle with a broom he provided. Then I stood to wait for Troy to arrive at the end of the driveway so he would know where the drive way was. It was pretty cold that morning so when I went in I put on my polypropylene layers and advised the others to do the same. It would warm up later on throughout the day but we were glad to be wearing the right clothing. I was excited about Troy coming along because not only was this his first trip to Monhegan Island but he might capture photos documenting our adventure. Troy is a professional photographer who carries expensive lenses, filters and works on the computer to enhance his images.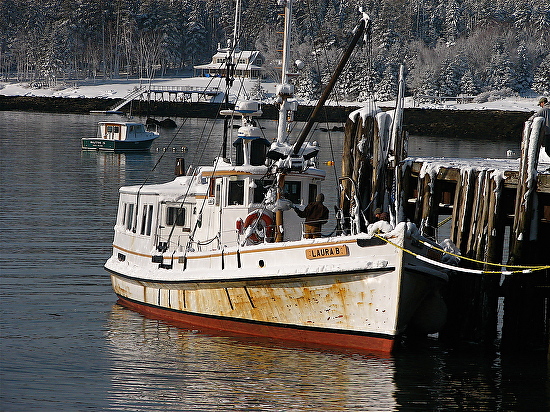 Deck hand shoveling off the deck of the Laura B.

We arrived at Port Clyde by 8:30 and had all of our gear on the dock and loaded into the Elizabeth Ann by 9 am. They were shoveling off the snow from the deck of another boat they have called the Laura-B when we all arrived. The Laura B is a decommissioned world war II mine sweeping boat. Becky and Renee met us at Port Clyde traveling in separate cars and we were able to all park for free right at the Port Clyde parking lot because there wasn't many cars there and plenty of available spaces. Everything was a lot more relaxed and laid back than it usually is during the peak tourist season. There was no captain introduction on how to put on a life jacket safely and instructions on treating the trails with respect; only the polite and friendly amazement from the crew that we would go out there in the first place as painters. The Elizabeth Ann had become a mail boat that would only be scheduled for one trip to Monhegan that day and we felt excited to be on it. They were all so professional and helped us aboard not even taking our tickets until after we disembarked onto Monhegan Island. This calmed the nervous concerns of those who had not traveled to the island before and who faced an hour-long excursion.

But the seas were not bad at all. The waves never reached higher than four feet at 14 second intervals and most of us didn't need to take a sea-sickness pill. The visibility was excellent and sun out and we could see our destination almost immediately looming out over the horizon like a sugar-coated whale-shaped rock rising out of the ocean. We were simply amazed at the amount of snow present on Manna as we entered the harbor exactly and hour after we departed Port Clyde. We knew then that this weekend would be very special and that we would be able to capture beautifully unique landscapes. There were four truckers there including ours who took all of our 30 plus pieces of equipment and luggage directly to the Shining Sails cottage where our apartments were located.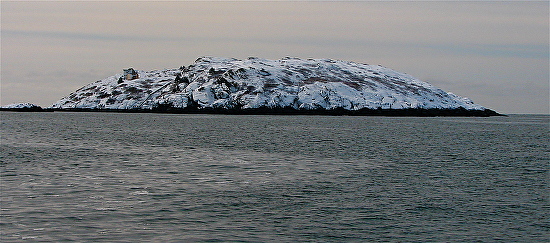 Winter snow on Manana as we arrived at Monhegan Harbor.

On the dock while we were waiting for the crew to unload our gear we met Susan Gilbert and Alison Hill, two prominent Monhegan artists who welcomed us. Susan had a very successful show of many of her exquisite oil and watercolor landscapes last summer at the Island Inn and Alison is presently showing her beautiful paintings with me and another artist at the Elizabeth Moss Gallery. It was very encouraging to be welcomed by such friendly painters.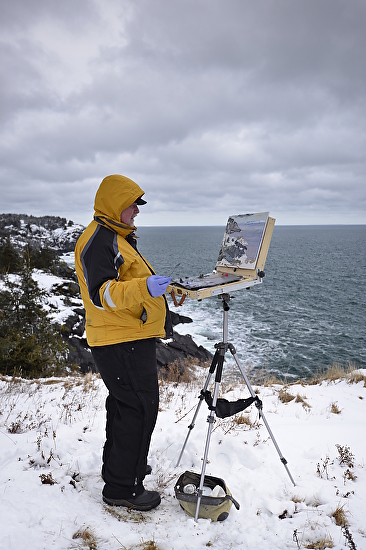 Michael E. Vermette painting on Whitehead, photo taken by Troy Sands.

All of us were chomping at the bit to get started and paint for the afternoon. We arrived by 10:30 and Renee was the first to start painting just outside the cottage a fantastic view of the snowy road leading the eye into the village. The other women ventured out to Lobster Cove an did fantastic compositions of the snowy coast and surf. Troy and I were more ambitious and hiked out to Whitehead. The snow was very deep and we broke trail with snow rising just below our knees at 18 to 20 inches at nearly every foot-fall. But it was worth the slow-going hike and all the sweat because the views were simply stunning. This was what we came for, and I'll never forget Troy's face as he saw the view of Gull Rock from Whitehead for the first time. He kept saying, "This is amazing Mike, This is Amazing!" and it was. He photographed until after sunset making his way down to Gull Pond and back up Whitehead where he took over 85 photos! I returned earlier to discover that the group had been invited by Sarah Gilbert to her house for wine, tea, cheese, crackers and warm conversation. It had begun to lightly rain in the afternoon and all of us had completed one painting. We had a great visit as we viewed many of her paintings on the wall of her beautiful home that had commanding views of the harbor. We learned the goings-on of this rich island life she lives and we all felt so privileged to have been invited.

It started to get dark and so we headed back to prepare a meal for the group. Linda made a very tasty shrimp pasta and Troy and I made the salad. Kay made homemade bread and Nora made tasty finger size raspberry cheese cake tarts. We observed a moment of silence to thank the Creator as we all enjoyed our meal together. We were all very hungry from all the hiking we did. Troy and I were very sore from carrying packs in our shoulders and legs. We would average about 10 miles each day although it didn't seem that far to get to any site.

After supper we were treated with a feast for the eye as each of us shared our works and processes. Renee handed out her cards that described the fascinating process of painting on cooper and I shared about the gypsum gessoed panels that I used, both highly prized substrates to paint on. In fact I was pleased to find just about every substrate represented that also included canvas, linen and pastel paper. We had the suppers and group critiques in the apartment that Troy and I occupied because it had a larger table and a gas fireplace in the living room where we put up paintings one and two at a time. It was a long successful day and so we were satisfied just to see what everyone accomplished. All of us got off to a great start. Kay Carter got out her Robert Henri book of "The Art Spirit" and read passages from the book that we discussed in our last connect sharing. We particularly discussed the section of the book where Henri is quoted to have said,

" There is no order in the seclusion of the world's good for the minority, and the battle for this proves the complete disorganization of minds who institute it. War is impossible without institutionalism, and institutionalism is the most destructive agent to peace or beauty. When the poet, the painter, the scientist, the inventor, the laboring man, the philosopher, see the need of working together for the welfare of the race, a beautiful order will be the result and war will be as impossible as peace is today." - Robert Henri P.145 in The Art Spirit book.

We talked briefly about each going our separate ways the next day to paint at different locations on the island and headed in to get some much-needed sleep in our cozy victorian style apartments.



"Early Morning Wintery View from Gull Rock, Monhegan" an oil on gypsum panel 12 x 16 inches by Michael E. Vermette.

The next day Troy and I left to capture the sunrise at Gull Rock by 5:30 am. We were the first of the group to actually get out and paint. As with the group, we knew this day would be our best chance to create at least two paintings. The trail was hard going, but we took out time and just keep pressing on until we got out to Gull Rock Ravine, just in time to witness the very bright sunrise. I positioned myself near a large rock and painted mostly in the shadow of Gull rock until the sun rose high enough to show on the rock ledge to the left of my painting composition.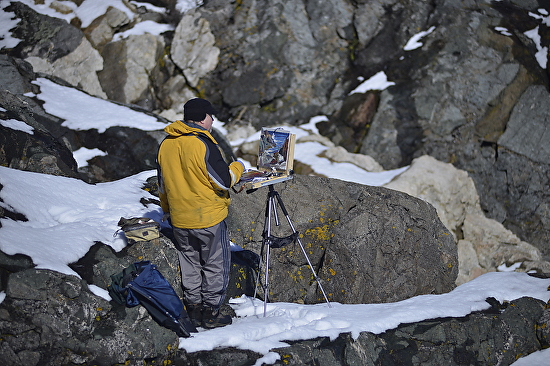 Michael E. Vermette painting at Gull Rock ravine, photo taken by Troy Sands.

By the time we returned to the cottage by 9:30 am we were totally exhausted breaking trail. By then the other painters were out in the village and up on Lighthouse Hill painting the lighthouse and James Fitzgerald's dory. Kay Carter broke her own trail out to Burnt Head to paint a beautiful view of Whitehead all by her self. Way to go Kay! In the meantime, Troy and I ate the rest of our salad left over from the night before and rested for about a half hour. Then we suited up in warmer layers and hiked out to Squeaker Cove through the Cathedral Woods which was like walking through a peaceful old growth forest. The snow was not as deep there but when we got out to Squeaker Cove we had to take it slow because the snow leveled off the deep crevasses between the car-sized boulders. A few time we would sink way down above our knees and could see how one could easily break a leg or ankle. But we quickly adjusted to the danger and negotiated the terrain carefully. We both captured awesome views of the afternoon light upon colorful snowy sea cove.



"Wintery Squeaker Cove, Monhegan Island" an oil on gypsum panel 12 x 16 inches by Michael E. Vermette

There is a lot of excellent color found in the rocks at this place. It is simply magical with the myriad array of countering tones that sandwich in the greenish-blue surf and foam. I personally appreciated the movement of the undulating current that fills the cove and then draws back out to the sea. It's an action that repeated all day no matter how high or low the tide. This was shaping up to be a great day as we both finished and got back to the village early by 2:30 PM; which was great because we had time to go to another site on the island.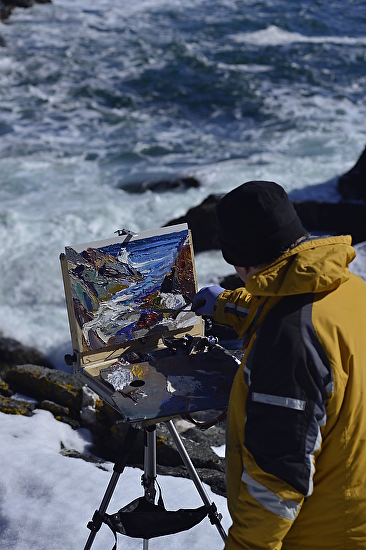 Michael E. Vermette painting at Squeaker Cove, photo by Troy Sands.

We never ran into the women painting anywhere and really had no idea where they were working. So we made sandwiches and ate a late lunch at our apartment. We rested and went back out to try to capture the sunset at Lobster Point near Lobster Cove. The skies by then were starting to cloud over and the wind really started to pick up. Our plan was to be all set up 4 PM so that we would be there about an hour before it happened. We did meet Renee who was capturing images at Fish Beach with her camera. We also ran into islanders on their way back to the village as we were going out on Lobster Cove trail. We soon discovered what they were viewing as we witnessed the high tide surf exploding upon the rocks. This was very exciting to witness and energized us as artists. The wave action was so incredible it brought out a physical shout out of us both. There is nothing like the surf on Monhegan in the winter time. I was particularly struck by how dark and powerfully the 7 to 10 foot large the waves were. The skies got darker and darker as time went by and I quickly established my painting within an hour. But after about 2 hours the sun even more shrouded behind the thick clouds like the softness of a moon, giving everything a silvery glow. It was a completely different painting and thrilling to witness. As it got darker it became more imposible to paint, so we packed up and set off for the village.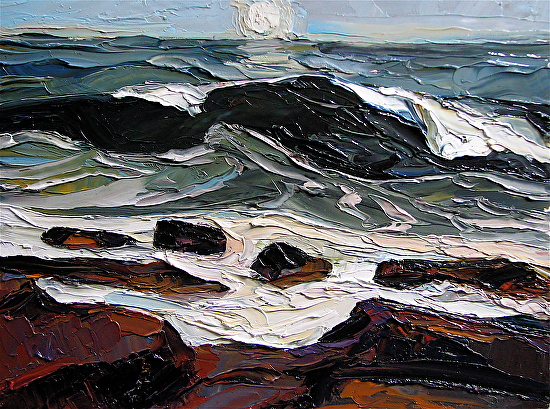 "Silvery Winter Sunset, Monhegan Island" an oil on gypsum gessoed board by Michael E. Vermette

We were both amazed at how quickly we were creating our images as if the spirit in the seascape was almost rendering itself in our pictures. Troy was like a child in a candy store and I was not much older. He took every possible angle of the exploding surf that would crash ashore time and time again. We both dressed with thinner clothing and started to get chilled by the wind that we were facing the whole time. I loved how the powerful darkened green waves contrasted the iron ore rust color of the rocks, especially when wet. I was so impressed with watching Troy work I photographed him several times. He was so engaged in his work as I'm sure the others were on the island, that he reminded me of the Ashcan painters of the Henri school who use to paint below the high tide line.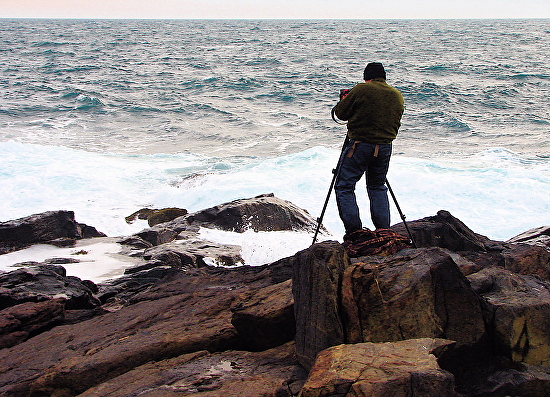 Troy Sands photographing Lobster Point a Sunset, photo by Michael E. Vermette.

Earlier in the day on our way out to Squeaker Cover we meet Susan Gilbert on Black Head road doing a very dynamic vertical painting of Cathedral Woods. We invited her to our group critique that night and she agreed to come. So when we got back from Lobster Cove we had to quickly take care of our images and paintings and make room at the table for dinner. Everyone was back and were excited about their accomplishments. We all sort of descended upon the apartment as Troy and I were finishing up on making the salad once more. This time I helped Troy make a huge salad that was more than enough. We even chopped up apple to add to the many other ingredients. Becky made an excellent spicy soup that had some heat and it tasted so delicious many of us has two bowls. For dessert Renee surprised us with gourmet cup cakes and she even had carrot cake ones which were my favorite. That day I turned 56 and I thought that it was great to have a piece of my favorite cake after having such a perfect painting day on Monhegan. The group all wished me a happy birthday and soon after, Susan showed up to join our critique. It was a better critique than the night before and at time intense and mentally challenging, especially after such a taxing day of painting. Susan Gilbert brought three dramatic watercolors of crashing surf. She made a lot of helpful comments sharing that by adding a light reddish alizarin tint to the water in the distance to push the waves back in space was a very helpful hint. She said that she learned the hint from Don Stone who taught her that by doing so it pushed the waves back in space.. Renee talked about creating rhythm and flow in the water. I got a chance to also share the concept of using "Halation" lines in between colors to soften edges. I read about it in the book, Painting With A Fresh Eye by Alfred C. Chadbourne. He painted a lot of expressive Maine landscapes and coastal works along with his painter friend and another artist I like Rex Brandt. Both of these artists became interested in the works of pop artist and expressive painter Wayne Thiebaud who did roller-coaster perspectives of the streets of San Francisco and Brilliant color. Chadbourne attempts to have the painting create its own light rather than imitating light. The theory might have originated from the paintings of Monet's haystack series who discovered that luminous shadows can be created by juxtapositioning opposite colors.
There were many styles, theories, and ways of working that will I'm sure give us food for thought in the months to come. It was one of the best critiques I attended in a long time. When we concluded it was around 10 PM and it started to rain soon after. In fact it never really stopped raining off and on until we left the island the next day.

The final day of our adventure was a real wash out and none of us got any painting done. It was time to pack up and make the journey home. Thankfully the huge waves and whitecaps on seas that were present the day before were gone. Most of us got up later and were all packed up to leave by 9:30 am. We took a final group photo in our apartment. It was during the waiting around between photos that we got into a great conversation about the painting reproduction of an oil that was hanging over our couch. I looked at it all weekend. It was of an older women hauling what looked like a Yule log on a sled in the winter time. Painted by Giovanni Segantini and printed from the Saganiti Museum in St. Mortiz, we all admired how compositionally right the painting was. I just loved the figure in the landscape anyway, but this painting had a special hashing line texture that I couldn't keep my eyes off of. Besides, I think we all could identify with the women hauling and trekking through the snow field as we all did that weekend.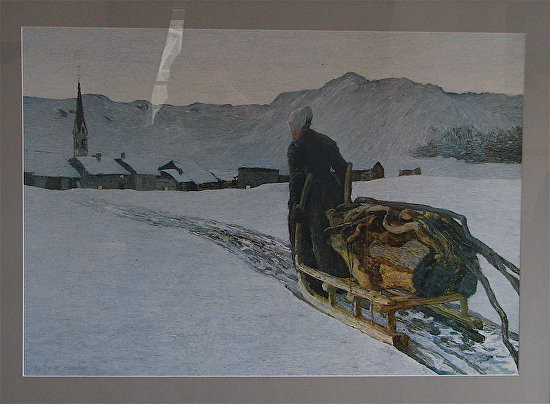 Giovanni Segantini, Segantini Museum St. Mortiz 1890-/98.

I love our plain air connection group. We've been planning this trip for two years and finally we got the chance to paint out on Monhegan Island, some of us for the first time. We don't have a leader, just coordinators who assisted all of us to do what we love to do most; paint plein air. When I look over at Becky White painting at Schoodic point in the rain this winter, braced and all leaned over into the wind with determination, I'm moved with that kind of spirit and dedication. Remember just a year ago Becky, you hardly even painted on location, but look at you now. Your paintings are so alive and you have found the courage to approach three galleries that you now show your work in. When I see Kay Carter dressed up in a light weight snow suit painting in sub-zero winds last year at Schoodic Point with a smile on her face and a twinkle in her eye; I'm encouraged and want to keep painting even though my fingers are bone numbing frozen. You and your husband Daryle are among the most generous people I've known and Kay that care shows up in your work. It makes me want to be that kind of person. When painting with Nora West at the Mica Cave on Monhegan Island last summer, whom actually believed we were going to lower her down in a cave to do a painting; It still brings a smile on my face today, you are not only funny but one of the best communicators I have ever known when striking up conversations with complete strangers. And who could ever forget Linda's Stearns' composition of Lobster Cove this weekend. That painting surprised us all and went beyond our expectations of how wonderful a painting could be if composed like a quilt or collage. And Troy Sands, you got me when you actually ventured below sea level to lay down behind a rock at eye level to capture an unusual view at Gull Rock. You reminded me of George Bellows because you dared to go below the high tide line just to get the shot, never mind that you got a little wet. You just kept shouting, "This is awesome Mike! This is Awesome!" Yes, Troy, Mohegan Island is awesome but so are all of you in this group. If I didn't mention you it's not because I don't admire you; it's because there wouldn't be enough pages to write every inspiring story. But this is why I attend the Plein Air Connection group meetings and participate in the paint-outs. I can't wait to see what will happen next to each and every one of you. I want to paint with you all no matter if I completely agree with your painting style, what materials you decide to use or what particular philosophy you hold to be true. I want to see you all succeed as you host gallery shows and sell your paintings a images that connect with people who need to own your art as much as you needed to make it. You are all great artists whom I paint with, whom I encourage; build up and edify. You welcomed everyone to our humble group and enrich the lives of many, including mine. And for that I feel privileged and blessed to known you all. We have something special going on here. We are the Plein Air Connection painting group and it continues to be enough for me. Thank you all for this wonderful weekend. You are what made it great and all worth while. Lets keep this up!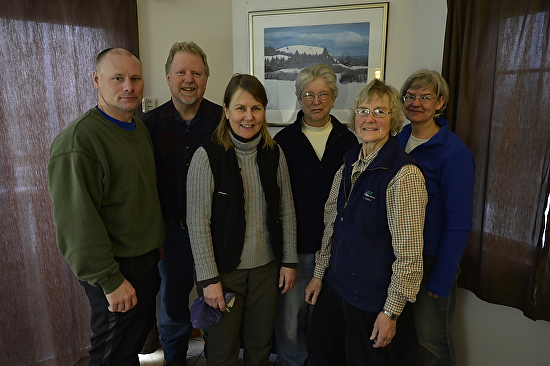 From left to right: Troy Sands, Michael Vermette, Nora West, Kay Carter, Linda Stearns, and Becky Whight, photographed by Troy Sands.

The paint-out this Tuesday is postponed to next week. We will have high winds and below 20 degree weather. We will schedule it for next Tuesday and go to Acadia National Park's Great Head. I hope to see those who can attend at the Bangor Art Society meeting tonight at 6PM on the second floor of the Bangor Public library. The artists from School Street Picture Framing will give us I'm sure an excellent presentation. Also We will be displaying our ceramic plates and platters we painted on at the Creative Arts Center in Brewer, Maine.

The Plein Air connect group book discussion meeting is rescheduled for next Saturday at 10 am and will go til noon at the Holy Grounds Coffee shop at Grace Church 1404 broadway, Bangor, Me 04468.

May you all paint this week with a fresh eyes,

Michael E. Vermette
Coordinator of the Plein Air Connection

If you have enjoyed this newsletter, please feel free to share it with others. Comments are always welcomed. To join this newsletter go to www.michael.vermette.com and join my newsletter which is free of charge.







Comment on or Share this Article →
---
---
---
---