---
---
---
The Plein Air Connection Newsletter, January 21st, 2015
"The First Snow, Monhegan Island" an oil on canvas 24 x 26 inches by Michael E. Vermette
Book Discussion: Art & Fear
Chapter 5: Fears About Others
We had a very inspirational and insightful discussion at Kay Carter's House in Hampen, Maine last Saturday. Kay made a delicious homemade corn chowder. And the fabulous corn bread and freshly made muffins and scones were brought by the rest of the women in the group. Those present were Becky Whight, Arrah and Greg Vanier, Anne Spencer, Kay Carter and myself.
With our coffee and tea in hand we went into her dining room and began our discussion talking about the advice the well-known baseball player Satchel Paige once stated about his fear about others;
"Don't look back - something might be gaining on you." - Satchel Paige.
Good advice or not this statement brings to light the very real fear we might have of others or other things gaining on us and overtaking our personal style of art making. We all agreed that art is made in abandonment, with us being alone with our work, and that art rarely emerges from committees. But for the most part, there is no client, and in making art you lay bare a truth you never anticipated through the very contact you have with what you love. We expose ourselves to a world that has the power to withhold approval, understanding and even acceptance. How could we not take it personally since we are so connected to our work. Wanting to be understood is a basic need. The group loved the quote by the painter Ben Shahn who said,
" It may be a point of great pride to have a Van Goah on the living room wall, but the prospect of having Van Goah himself in the living room would put a great many art lovers to rout." - Ben Shahn.
We agreed that catering to fears of being misunderstood by others leaves you dependent upon your audience. Your ideas become so diluted to what you imagine your audience may consider acceptable that it leads to works that seem condescending and even arrogant. The biggest loss is that we discard our own gift of our highest vision found in the art making process.
Acceptance as an artist goes back as far as childhood when we questioned even then whether or not our artwork will ever count as true art. When we make art that looks like what it is supposed to look like, art is accepted by the world around us. Acceptance in this case is automatic based on pre-existing heritage. And although it is wise to stay on good ground with our artistic heritage (by avoiding reinventing the wheel and so on...), it is far more dangerous to not ever learn from the past so that you have little to offer or teach the future. In this place risk-taking is discouraged, artistic development stunted, and personal style made to fit into a pre-existing mold. The real question, we talked about as a group, was not whether our work will be viewed as art, but whether it will be seen by others as our art.
If acceptance means having your work count as a real thing of value, than approval means something very different. Approval means that people like it. The author cites Norman Rockwell as an example of an artist who was well liked but who received very little critical respect as a painter in the artistic world. We agreed that the author makes a good point when he says, " …..courting approval even that of peers, puts a dangerous amount of power in the hands of the audience. Worse yet, the audience is seldom in a position to grant (or withhold) approval on the one issue that really counts - namely, whether or not you're making progress in your work. They're in a good position to comment on how they're moved (or challenged or entertained) by the finished product, but have little knowledge or interest in your process." Another way of looking at this is that, your purest communication you can have as an artist is between you and your work not you and your audience.
And so, how do we find our voice in our work? Perhaps by first realizing that as the author suggests, that our art is more responsive to us than it will be to a seemingly unaware or neutralized world. This constant-flowing reach we have as visual artists is always greater than what we can produce physically as our work. That is what makes us unique.We hold amazing vision. The second thing we need to realize is that our artwork is closely tied to our time and place, especially the very ground we stand and live on. That we don't make art by being moved by other artists work of another time and place, but by being influenced by where we are. That is the experience we feel compelled to recapture in our work. Although it is tempting to borrow images from another time and place, that art that give us a deep gut appreciation for their legacy; it is more important to do the work that resonates with our life at that moment, in our time. If you try to copy someone elses style of their life-time you run into the danger of missing your own moment in time and that could be a disaster. Why? Because we are so connected to our present time and grounded in the present we can't even go back to reclaim our works of past experiences. The lesson here is that there is a difference between artistic meaning that is experienced in the present and artistic meaning that is referred to as someone's legacy of the past. We all liked what someone once said that they authors quoted that rang so true,
"No one should wear a Greek fisherman's hat except a Greek fisherman. - unknown author.
Thirdly, realize that the fear of running out of new ideas forever or that you have followed the wrong path for years are only fears. They are not the truth of what we actually are experiencing as artists. The truth is simply that real timeless revelatory secrets that come to the artist in the process of art making come into play on fewer occasions than do practical ones. Usually it's a single exciting innovative idea that can practically create the framework for a whole body of works and not just one single piece. Therefore art making is not what is left over when you pull away all your creative imperfections and regrets. Art is the "Full Payoff" of the things you have actually done with all your imperfections and regrets. We have to allow our art to be what it is instead of always trying to polish the imperfections and hide the regrets. The best advice we could agree upon as a group was that when things get a little crazy as an artist, maybe what we need to do is returned to the habits and methods that came into play the last time we felt really good about our artwork. For example, none of us realized until the authors pointed it out that the famous writer Hemingway always wrote from his typewriter standing up. the point they made was that if he had to sit he may have never written anything. Put simply, we have to realize that we too have personal habits and certain tools that make effective results. That curtain space you drifted away from can create once again excellent work.
The dilemma we all face as artists is when to stick to traditional tools and methods and when to reach out to embrace new possibilities. While younger artists tend to explore a wider range of tools and materials, the older artist tends to use more selective tools and methods. But no matter how old or young you are and no matter how long you have practiced as an artist, in time your exploration will develop into an extension of your unique expression. When we discipline ourselves to work in a curtain way or narrow our focus to work in a curtain form as it were, we become more confident in our painting process and less burdened by having to reinventing ourselves in every painting.
When we discover our personal way and form of working we should realize that it is precious and ought to be guarded, not taken for granted. For most of us, making effective art will depend upon making lots of work. Any habit, form or process that helps us take that first stroke from one painting to the next is of great practical value. The most difficult part of making art is living your life in such a way that art becomes inevitable so that the work gets done, over and over again. This depends on finding a whole sack full of useful practices that are useful for you to pull out when you need them. In time and as successful artists, these useful conventions and methods will move beyond just procedure and take on a beauty of their own even a life of their own. As the authors states,
" They are your artistic hearth and home, the working-place-to-be that link form and feeling." They become- like the dark colors and asymmetrical lilt of the Mazurka- inseparable from the life of their maker."
More importantly they make room to discover confidence and concentration, allowing not knowing and the unarticulated to be okay in a painting process. Once you have found that work you are purposed to do, the particular problems of any single piece you face or encounter in each work doesn't really matter as much.
I will share Part II and chapter VI in the next newsletter. But for now I would close by responding to a leading question that Greg posed in the group as to what we should do as painters when responding to other people, audiences and committees. I would say, as Greg I think would agree, " find that place in the Spirit where the making of art becomes timeless and let that become your guiding approval."
The Next Book Discussion will be announced in a few weeks.
As you can see our last book discussion was a very rich discussion and we plan to do it again. The next book discussion will be at Becky Whight's House between 10 and noon. The Book we have chosen to read is of course:
ART AND FEAR, The Perils and Rewards of Artmaking by authors David Bayles and Ted Orland.
Please read Chapters six to seven and be prepared to participate in a lively discussion at Becky Whight's ' house with good food and encouraging friendship in Ellsworth from 10 am to 12 noon. We will be car pooling from the parking lot at Penobscot Plaza in Bangor, Maine at 9:00 am. To coordinate please call me at 827-7573.
The next Book Discussion Meeting will be announced at a later date in February.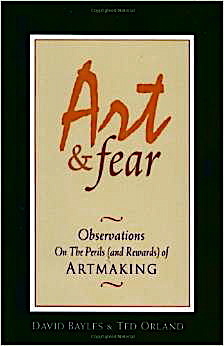 Program Description:
There is a huge movement of painters around the world who are gathering to share resources and their deep appreciation of painting outdoors in all seasons. Weary of workshop formats, conference schedules and structured studio courses, these painters are forming their own groups that are free to paint outdoors directly from nature and from the spirit within. The Plein Air Connection is a generous group of artists who believe that drawing and painting on location is a spiritual practice of faith as much as it is a matter of learning from nature. It is not cheap, it comes with a price, but it is absolutely free to participate in. We find that plein air painting is a great way to allow yourself to be influenced by the art spirit entering into the very life of the painter through the outdoors as a setting where we engage. Painting like a find, the Spirit of an idea possesses us as we discover the hidden meaning in each location. This is at the heart of making beautiful paintings that not only impact our world but can produce positive change for those around us.
This kind of painting creates its own health benefit and market, not the market or health creating the work. We are not interested in art as a means of making a living as much as we are interested in art as a means of living a life. Plein-Air Paint-outs, wet paint auctions, and fundraisers are all examples of how the tangible beauty in the work can inform and awaken our world. So the journey to become a skilled plein air painter is grounded in identifying what the Spirit has prepared for us on location as a subject idea. Then by making a painting from nature that captures the true essence of color, light, shade, texture, tone and shape, we bring to life a new work that responds to our experiences. Many artists paint studies and sketches on location and use them for references for larger studio works, a tradition that has been passed down from the great painters such as Frederick Church, John Constable, Winslow Homer, John Singer Sargent, Marsden Hartley, James Fitzgerald, and many modern painters today. It is considered an important discipline for figurative Painters to master as well.
Guidelines for the Group
1. You must have fun and be willing to be open-minded enough to encourage a passion for plein air painting in each artist. This group develops a contagious confidence in art making in a supportive atmosphere.
2. You must be respectful of the many ways artists create their paintings. The Spirit is the instructor, not us.
3. You are encouraged to paint 2 to 4 hours on location with the group but also on your own with the Spirit as your guide. Painters are encouraged to tell the group where they are going but are allowed to go off on their own to be alone with their subject.
4. You are encouraged to share your painting and a meal with the group. We are big about sharing meals together because it helps us to forget the painting struggle as we celebrate our accomplishments and refocus on our works with fresh eyes in a supportive group critique setting.
5. All personal expenses are the responsibility of each artist including, money toward gas, meals, lodging, and travel tickets for boats and planes. There is no dues or fee to belong to this group.
We try to meet every other week to paint and in the winter months we hold additional book discussion meetings twice a month to encourage each other by reviewing an inspiring art book. We discuss ideas about where to go for a painting location and are not limited to a local area. In fact we have been know to travel all over the state and organize painting retreats at cost to our participants. We plan our trips accordingly as we car pool as much as possible to save on gas. If you love to paint or draw outdoors en plein air and would like to gain a new perspective in co-laboring with the Spirit to make beautiful art, then we would love you to join us.
"The object isn't to make art, it's to be in that wonderful state which makes art inevitable."
- Robert Henri
The next Paint-Out & Museum Visit is scheduled for this Saturday January 24th, 2015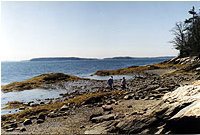 Saturday 1-24-15: At Wolf's Neck Woods State Park and Bowdin College Art Exhibit, Maine
Description: Wolf's Neck Woods State Park is a five minute drive from the center of Freeport's bustling shopping district, and as visitors approach the park, marshes and open fields provide a tranquil transformation back to nature. In 1969, this area of more than 200 acres was given to the State by Mr. and Mrs. Lawrence M.C. Smith of Freeport. The park contains varied ecosystems, including climax white pine and hemlock forests, a salt marsh estuary, and the rocky shorelines on Casco Bay and the Harraseeket River. The weather is predicted to be good and not too cold with partial sun. Please bring a lunch or light snack to munch on where we will be going directly to the museum after painting. We will be checking out the exhibit at the Bowdin Colleg Art Museum called "Rocks, Waves, and Skies: Maine Landscapes, 1900-1950." For more information please click on the link below:
http://www.bowdoin.edu/art-museum/exhibitions/2015/rocks-waves-skies-landscapes.
shtml
Car Pool: meet at Dysart's Truck Stop in Hanpden this Saturday to car pool by 7:30 am. We will meet in the parking lot where some of us can leave our vehicles.
See you all soon and have a timeless painting experience this week!
Michael E. Vermette
Coordinator of the Plein Air Connection
Comment on or Share this Article →
---
---
---
---
---
---
---