---
The Plein Air Connection Newsletter, February 25th, 2015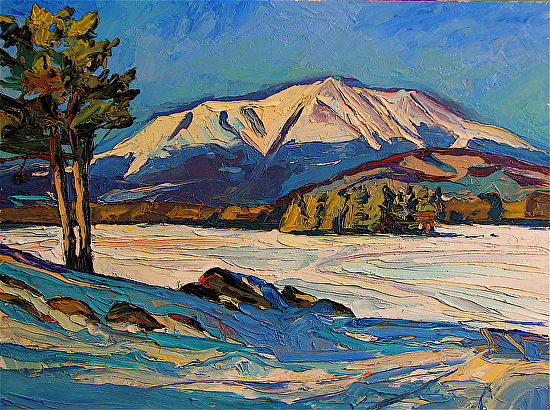 "Snowy Katahdin From Millinocket Lake" an oil on gypsum panel 12 x 16 inches by Michael E. Vermette.
The Katahdin Trip last February 18th to 21st, 2015
The planning of the Katahdin paint-out really began on Valentine's Day on February 14th at our "Art and Fear" book discussion. Guest artist Susan Gilbert Lord from Monhegan Island joined us as we reviewed chapter 6 "A View Into The Outside World". We began our discussion by talking about how ordinary problems can keep us from making our art and how it can affect our morale. It seems the more effective our art is the more likely the viewer's first response will be anger and denial - followed by a search for someone to blame. "We have after all, a time-honored tradition of killing the messenger who delivers the bad news. Then we talked about the common ground we find with the viewer when time is taken to visit the world we have created in our art. It is certainly refreshing to know not everything has been created that this is ever to be created and that the world is not done appreciating it. Some of the art issues we talked about is the existing art network that involves the formal training of an MFA as a prerequisite to making art. We acknowledged that there is a betrayal that exists between the artist who paints from the heart verses painting for the emotional concerns of the curator, publishers and promoters of art. "Unfortunately, healthy artistic environments are about as common as unicorns" says the author. It is true that we live in a society that encourages competition and the need for demonstrating a high level of accountability for judging who wins. Fear that you are not getting your fair share of recognition can lead to anger, even depression. The motivation to produce art that attracts high praise can cause one to be extremely driven if without the ability to tell yourself that you are OK. Better to focus on the life source found in the art work itself regardless of how they stack up as personal favorites. Our art works are our babies and with it can come the wonderful obligation to explore and answer the questions that might be asked through it. When navigating through the art systems in our world it helps to understand that we are not living in the healthiest of times. In a world where self-expression has become an end in itself it is important that we reach for a more cultural niche for our art. We should all tap into the deep well springs of our art, our materials and our subjects to see how it rings true regardless of whether it fits with the contemporary attitudes that make sense over time.
With these thoughts in mind we went snowshoeing for about four and a half miles to practice our six-mile trek into Baxter Park in route to Katahdin Lake. Whether it was the packing, planning or training I didn't see the e-mail from Holly Hamilton who regrettably informed us that she had to cancel our Katahdin Lake paint-out due to a malfunctioning satellite dish in The Katahdin Lake Wilderness Camps. Their communication with the outside world was simply non-existent and unsafe to have guests at the camps. So subsequently all reservations including our own were cancelled. So even though all our planning had reached a roadblock, we continued to make plans for us to stay at the New England Outdoor Center. We got an incredible deal on our resort style cabin that had all the amenities. This eliminated the need to ski or snowshoe into Baxter Park and we took our two trucks filled with gear and drove right up to our cove cabin.
It was a two-floor cabin with three rooms, two bathrooms, heated floors and a complete kitchen with dish washer, microwave oven, refrigerator in an open concept design that overlooked the living room with cable and wi-fi access. Needless to say we were spoiled, finding ourselves in a resort compared to other wilderness cabins.
We arrived there early enough to each do a painting of the spectacular view in front of the Twin Pine Camps on Millinocket Lake. The sun was out and the temperature was in the upper twenties. We had an awesome view of Katahdin and we painted until dusk. I hiked around the back to the cove where our cabin was located in a large cove facing east. We ate our suppers mostly at the River Driver's restaurant located right there at the New England Outdoor Center and the meals were reasonable and excellent. We prepared our breakfast and lunch diners in our cabin as we took all our meals together offering a moment of silent thanksgiving. The four artists who went were Paul Girdzis from McLean, Virginia; Susan Gilbert Lord from Monhegan, Maine; Kay Carter from Hampden, Maine and myself from Indian Island, Maine. That night we all got a great night's sleep.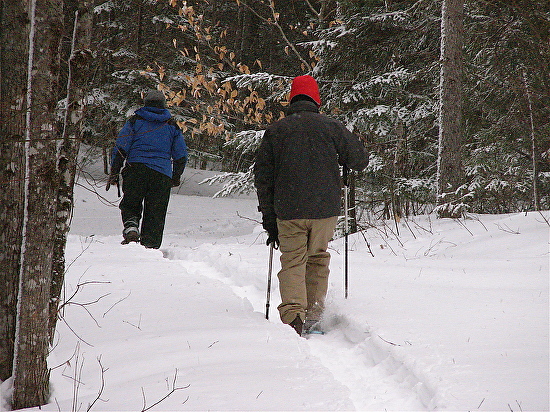 Kay Carter (left) and Paul Girdzis snowshoeing out of Compas Pond, Photo by Michael E. Vermette.
In the morning the weather changed dramatically to snow all day long. So we decided to capture photographic images from the Golden Road and work from those and the experiences we had on location back in our cabin. We snowshoed into Compass Pond in the driving wind and I remember how the windblown snow crystals would sting our eyes as we ventured onto the open pond. We didn't stay too long because there was white-out conditions and no view of Katahdin; but we enjoyed taking pictures of each other.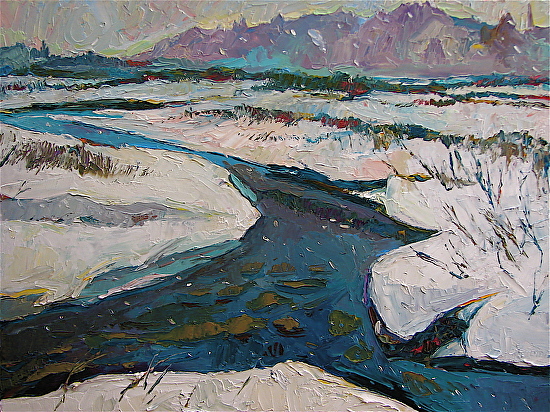 "Abol Stream in February" an oil on gypsum panel 12 x 16 inches by Michael E. Vermette.
After our Compass Pond hike we continued on to Abol Campground where we stopped at Abol store to warm up. We were able to park where the rangers parked their vehicles above Little Abol Bridge were we collected excellent images from which to paint from. I got down to the deep snowy banks with my snowshoes and was able to get two images that I painted at the cabin into the night before turning in at 11PM. After the morning in the cold wind we were glad to arrive back at our warm cabin where we found Susan Gilbert already painting away. We all proceeded to do the same after a hearty lunch.
The next morning when we loaded up the truck once again to go on another printout. We found that the snow had stopped and that the sun was beginning to come out. It was still frigid but we had a hope of seeing Katahdin from Rhodora, Frederick Church's old camp now know as the Woodworth family homestead. We received directions from the maintenance man who came that morning to fix the lock of our back door. A collector of art in his own right, he gave us encouraging information that Rhodora was not far from our cove cabin. When we got out to the road we noticed that a staff plow truck was out and so we stopped him and asked him for better directions. He was kind enough to not only show us the way but also plowed the road up to the Woodworth Family Homestead's driveway. Once there we found theyounger son "Woody" snowplowing their road out with a large tractor and snowblower. We couldn't have timed it better. We followed them right into the camps and introduced ourselves. The family was very welcoming but the wind was not. Coming out of the north with gale force winds there was total whiteout conditions with no view of the mountain. The family tried to leave a message for us earlier that morning at the front desk of the New England Outdoor Center but we never got it because we were already on our way by then. They were kind enough to give us a personal tour and we proceeded to ask them if we could paint the interior of the camp and they agreed. They not only gave us a wonderful tour of the amazing Victorian log cabin but they offered the wonderfully rich history that brought the cabin and artist to life. It was like stepping into the past and we all got goose pimples when we realized that might be standing in the same place as Frederic Church did when he painted one of his masterpieces of Katahdin. The family made a rip-roaring fire in the fireplace for us using huge logs and even made homemade cookies for us with fresh hot coffee. We painted for four to five hours when we finally completed our paintings and all day the Woodward family came out to check up on us, see our work, and keep us supplied with huge logs that warmed us all day. We tried to offer them a donation but they wouldn't take it. They were the nicest people I had ever met and we all promised that we would be back later in the year.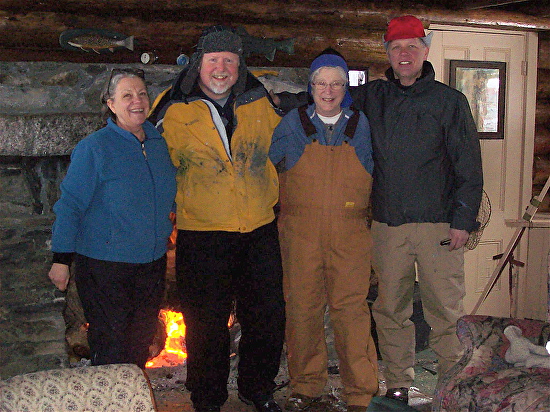 A special thanks to the Woodworth Family who warmed our hearts and made us feel so welcomed in such an amazing place. From left to right, Susan Gilbert Lord, Michael E. Vermette, Kay Carter, and Paul Girdzis.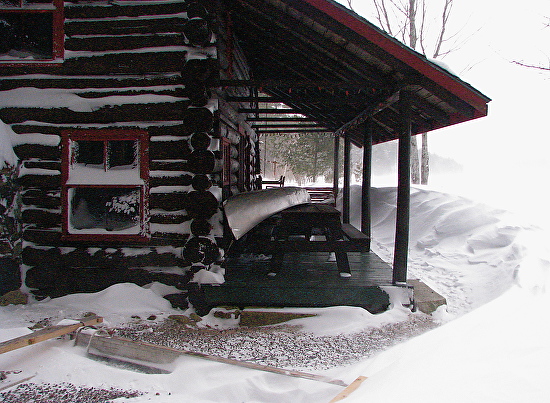 There were whiteout conditions with a North Wind Blowing off Millinocket Lake creating beautiful four foot snowdrifts around Rhodora Camp. The following is what the Family wrote about us on Facebook.
Woodworth Family Homestead and Churchs' Camp Rhodora
6 degrees, 25 mile an hour winds-gusting even higher, unplowed roads, snow drifts, whiteout conditions, and not even a hint of Katahdin....yet these four artists were not to be deterred! The allure of painting at the camp of Frederic Church trumped all else. By far our most "hardy" artists yet. Susan Gilbert, Michael Vermette, Kay Carter, and Paul Girdzis spent a chilly 5 or so hours painting in front of the roaring fire today.
Later in the day and into the evening the skies cleared and the Northern Lights were out on the right side of Katahdin. We learned this when we talked to a young mountain climber and kayaker in the morning who saw them the night before. It would have been a great painting but we weren't aware of it. That next morning we all got an early start raising by 5:00 to 5:30 am and getting out on landscape by 6 am. We stayed in the protective cove in front of the New England Outdoor Center's Twin Pines Camps because the wind made it nearly impossible to paint in the 19 below zero wind chill on the open lake. Two of us painted very quick beginnings and retreated to the cabin. Although my fingers on my right hand were freezing I was determined to stick it out until my painting was near completed. I couldn't have done it without the help of hand warmers inside my gloves that were brought to me by Paul Girdzis. It never ceases to amaze me that the painting that became the most painful and difficult to paint made it worth the whole trip for me in the end. Church's "Rhodora Camp" provided the much needed inspiration!
"Alpine Glow from Millinocket Lake in February" an oil on gypsum Board 12 x 16 inches by Michael E. Vermette.
By 9:00 am we all had enough of the brutal cold and retreated to have a late breakfast at our cabin. We checked out of our cove cabin by 10:00 am and we went on a photo trip up the Golden Road. We stopped at Abol Falls and this time could see the full view of the mountain. We continued northwest on the golden road until we reached the Telos bridge with impressive rapids. The wind and the cold made it too brutal to paint on the bridge so we just captured more photos. Then it was back on the Golden road and off to view Ripogeus Gorge from the dam. After spending some time walking the snowy dam we then decided to go back to Bangor through Greenville which was 40 more miles. We were able to see a clear view of Mount Kineo and we stopped in Greenville to eat a late lunch before returning home.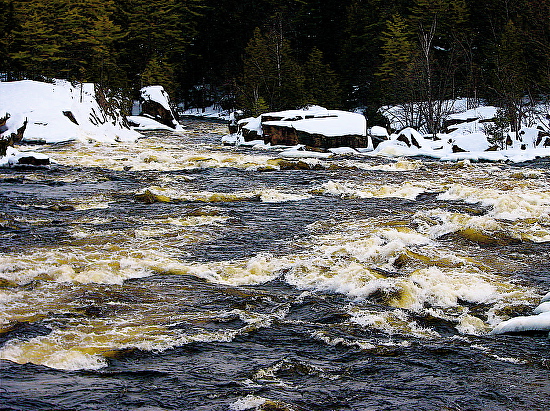 View from the Telos Hole from Big Eddy Bridge just off the Golden Road.
I really missed not going into Katahdin Lake this year, but I think The New England Outdoor Center proved to be an excellent second choice. The staff and owner were so very kind and helpful in making our stay so comfortable and rewarding. It would have been a lot more difficult to go into Katahdin Lake that week even though I think our group was up to the task. But what really surprised us all was the unexpected beauty that awaited us in areas that we could simply drive right up to or snowshoe into at short distances. We all felt that we must do this again sometime, but I would still like to do Katahdin Lake this April especially if the winter extends like it feels like it might. But this truly was an excellent adventure and Paint-out!
Upcoming Juried Shows
I thought you all might like to know of the juried shows, art auctions,
and festivals that are now open for you to apply to in Maine. Just click on the
following show titles below for more information.
Open Call For Johnson Hall, Harlow Gallery in Hollowell, Maine.
The 25th annual Maine Open Juried Art Show 2015, Waterville, Maine.
The Cape Elizabeth Paint For Preservation Wet Paint Auction 2015.
The Castine Plein Air Festival 2015.
The Bangor Art Society Open Juried Show 2015.
Paint from your heart and tap into the deep well springs of your art this week,
Michael E. Vermette
Coordinator of the Plein Air Connection
Comment on or Share this Article →
---
---
---
---
---
---
---
---
---