THE PLEIN AIR CONNECTION NEWSLETTER, April 12th, 2015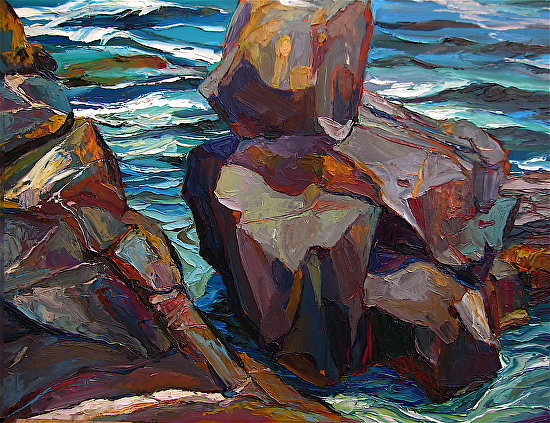 "Pulpit Rock, Monhegan Island" an oil 16 x 20 inches by Michael E. Vermette
The Plein Air Book Discussion to resume at a new meeting place: The Green Gem Holistic Oasis on Saturday April 18th of the New Moon.!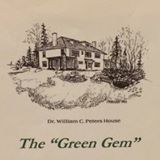 Spring has finally sprung and it's about time we met a few more times to finish up on our book discussions of Art And Fear, Observations On The Perils (and Rewards) of ARTMAKING by David Bayles and Ted Orland. Its also time to discuss our upcoming paint-outs. Our last book discussion took us into the second part of the book to the end of chapter VI and it would be great if we can continue to discuss in our next book discussion chapter VII The Academic World. We have not met for quite a few weeks now. So please come out and invite all to join us who would like to participate in a lively light-hearted book discussion. We will be meeting next Saturday April 18th of the New Moon.
The place we will be meeting is at The Green Gem Holistic Healing Oasis, which is a non-profit Holistic Healing Community Organization who have graciously invited us to meet at no cost. The organization is located inside the Dr. William C. Peters House at 900 State Street, Bangor, Maine 04401.
Directions: From State Street in Bangor, head North. Stay on State St., along Penobscot River, just past traffic light at split to Hogan Road. Immediately past Riverview Efficiency Motel parking lot is driveway on the LEFT with 4 mailboxes (868, 902 etc.).
Come up hill (*4 wheel drive is a plus) and stay to RIGHT towards big White Mansion. Park just past mansion, in multiple plowed out spaces, in front of garage and around cul-de-sac.
This is an important first meeting at The Green Gem Holistic Healing Oasis because we will discuss as a group how we might want to partner with this group to have our own future Plein Air Connection art meetings, art shows and even art workshops. So if you can make it, and if you believe like I do that our future will be greater than our past, I would like to have as many of you who have met and painted with us in to please come out and share your ideas.
We will be having soup and bread as a light lunch, so please bring your own beverages. We will be meeting in their Bluebird gathering room and follow up the discussion with a light luncheon. Should feel a little like Downtown Abby but without the butlers!
The event is free and of course all are welcomed to take part in our meetings and future paint-outs. Although there have been very few occasions when youth are involved in our programs the organization stresses that all young adults under 18 and children must be accompanied by an adult while on the premises. Hope to see you all there!
Plein Air Wet Paint Auctions and Festivals
1. The deadline for the Castine Plein Air Festival is April 30th. The cost is $25.00 to enter.
2. also the Tidemark Gallery has released their Call to all Artists registration for May 1st, 2015:
contact: charlotte davenhill at 832-7897

Call for artists to "Paint the Town" Save the date; Saturday, August 1, for this year's Paint the Town out-door art festival in Waldoboro. Registration will open on May 1, 2015.

Now in its tenth season, Paint the Town has become a cornerstone event on many summer calendars, sharing a weekend with the long-established annual open house at the Old German Church, held on the first Sunday in August.

3. Call to Artists: 1st Annual

Bucksport Arts Festival August 15th, 2015.

You are officially invited to participate in the 1st Annual Bucksport Arts Festival on the waterfront in Bucksport, Maine! The festival will be held on Saturday, August 15th from 9:00am to 4:00pm.

Fine artists and craftsmen of all kinds are encouraged to apply. We welcome paintings, photography, ceramics, glass, jewelry, fiber, woodworking and more! We have space for up to 75 artists, and will also have food vendors and music available for all to enjoy

Registration is $60 for a 10'x10' booth. You can apply online at http://www.bacasmaine.org/artregistration.html or download a paper copy to submit by mail. Once your application is received, you will be notified of acceptance and payment must be submitted in full.

The event is being organized by the Bucksport Area Cultural Arts Society (BACAS), an organization dedicated to supporting and promoting the cultural and performing arts for Bucksport and surrounding communities.

For more information, visit www.bacasmaine.org or feel free to contact me with any questions at (207)852-9570.

Many thanks,

Lyndsey Marston

Festival Coordinator and Artist

Short Letter from the Coordinator

As we begin the plein air season I hope to get as many of you as possible who are away to stay involved in the plein air connection painting group. I also hope to gather those who have hibernated over the terrific winter we have had. By the time some of you vacation here in Maine who live out-of-state throughout the summer you will miss the deadlines for festivals and wet paint auctions. In the last newsletter I sent out information on the Paint For Preservation Wet Paint Auction in Cape Elizabeth, Maine. Their deadline has been closed for about two weeks now. They have selected 30 participating artists that are not yet posted. But I am happy to announce that I have been once again chosen this year as one of the 30 participants. If you did not get into that one there is still time for the Castine Plein Air Festival in Castine, Maine and the Paint The Town Art Festival in Waldoboro, Maine. We have a very bright future as a group and we have a lot of fun plein air painting in the summer months. But you must enter soon to get into the excitement and fun at these places for the summer.

We will also have our own paint-outs and will be discussing our next one coming up over the week of April 19th to April 25th. If you come to the book discussion meeting you can have imput on where we might paint anywhere in the state of Maine.

So please keep in touch and join us if you have always thought you might. Paul Cezeanne was quoted to haver said,

We must not be content to memorize the beautiful formulas of our predecessors. Let us go out and study beautiful nature.

-Paul Cezeanne




Maybe this is your summer to discover something about nature that you never knew before that will open the way for your successors! Maybe you will discover something in studying nature in plain air that will stir and breathe life into your work. Either way nature is the best teacher.

There is a huge movement of painters around the world who are gathering to share resources and their deep appreciation of painting outdoors in nature in all seasons. Weary of workshop formats, conference schedules and structured studio lessons, these painters are forming their own groups that are free to paint outdoors directly from nature and from the spirit within. The Plein Air Connection is a generous group of artists who believe that drawing and painting on location is a spiritual practice of faith as much as it is a matter of learning from nature and each other. It is not cheap, it comes with a price, but it is absolutely free of charge. It is the open-minded study of the visual order found on the inside, not the outside trying to copying nature. It is a greatness that comes through the influence of the art spirit entering into the very life of the painter; and the outdoors is the setting where we engage with our full senses. Painting like a find, the Spirit of an idea possesses us as we discover the hidden meaning in each location. This is at the heart of making beautiful paintings that not only impact our world but can produce positive change.

This kind of painting creates its own health benefit and market, not the market or health creating the work. We are not interested in art as a means of making a living as much as we are interested in art as a means of living a life. Plein-Air Paint-outs, wet paint auctions, and fundraisers are all examples of how the tangible beauty in the work can inform and awaken our world. So the journey to become a skilled plein air painter is rooted in identifying what the Spirit has prepared for us on location as a subject idea. Then making a picture like nature that captures the true essence of color, light, shade, and shape brings about a living visual expression. Many artists paint studies and sketches on location and use them for references for larger studio works, a tradition passed down from great painters such as Paul Cezeanne, Frederick Church, John Constable, Winslow Homer, John Singer Sargent, Marsden Hartley, James Fitzgerald, and many more painters today. It is considered an important discipline to bring life into the dusty studio by painting studies and sketches on location.

If you think you might want to join us, below are the guidelines.

Guidelines for the Group

1. You must have fun and be willing to be open-minded enough to encourage a passion for plein air painting in each artist. This group develops a contagious confidence in art making in a supportive atmosphere.

2. You must be respectful of the many ways artists create their paintings. The Spirit and nature is the instructor, not us.

3. You must be willing to paint 2 to 4 hours on location with the group but also on your own with the Spirit as your guide. Painters are encouraged to tell the group where they are going but are allowed to go off on their own to be alone with their subject in nature.

4. You have to be willing to share your painting and a meal with the group. We are big about sharing meals together because it helps us to forget the painting struggle as we celebrate our accomplishments and refocus on our works with fresh eyes in a group critique.

5. All personal expenses are the responsibility of each artist including, money toward gas, meals, lodging, and travel tickets for boats and planes.

We try to meet every week to paint and in the winter months. we hold additional book discussion meetings twice a month to encourage each other by reviewing an inspiring art book. In the Summer months we discuss ideas about where to go for a painting location each week and plan our trips accordingly as we car pool as much as possible to save on gas. If you love to paint or draw outdoors en plein air and would like to gain a new perspective in co-laboring with the Spirit to make beautiful art that is inspired by the study of nature, then we would love you to join us.

"The object isn't to make art, it's to be in that wonderful state which makes art inevitable."

- Robert Henri




The Painting Location for this week: To be announced after the first meeting.

Kay and Daryle Carter

Please keep Kay and Daryle Carter in your prayers for the next month or so. Without divulging the specifics, Daryle has been diagnosed with a very serious and rare disease and they both need our prayers and full support right now. They have been a very big support for the group and now its time for us to show our support to them. Maybe we could put our heads together and see what we can do for them during this difficult time.

Have a wonderful painting week filled with light and the beautiful study of nature,

Michael E. Vermette

Coordinator of the Plein Air Connection



Comment on or Share this Article →
---
---
---
---
---
---
---
---
---
---