---
---
The Benefit of Plein Air Festivals and Wet Paint Auctions: A Look Back at My Wet Paint Adventures and What I Learned. By Michael E. Vermette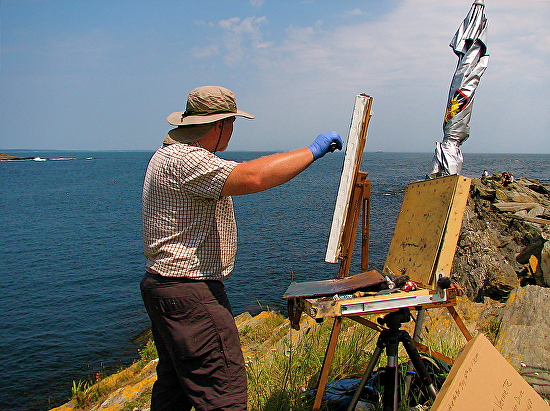 Michael E. Vermette painting en plein air at Boathouse Cove in Cape Elizabeth, Maine
Paint For Preservation: Cape Elizabeth, Maine
July was the busiest schedule for those plein air artists who participated in wet paint auctions and festivals as I did. Beginning at Cape Elizabeth, Maine; the painters selected to "paint for preservation" at the Cape Elizabeth Land Trust had their best year ever! Kajiah Velex from Thomas Place Galleries and Auction House auctioned off paintings that reached into the 5,000.00 range to a sold out crowd. I also sold my painting to a very happy patron who won it in auction for more than last year's painting sold for. I remember that Cape Elizabeth for me was a second chance opportunity to paint Boathouse Cove and the unusual rock formations that reminded me of the petrified wood striations that I found in California as a boy. It's not petrified wood, more a shale rock, but just as interesting how the lines lead the eye into the sea. There was a middle-aged fisherman who came to cast his line from the head of the point and I included him in my painting composition to the left. I also included the tanker on the horizon because it resembled another off shore island in the distance and when you can repeat a shape it makes the painting more homogeneous.
I got a lot of visits from different tourist who seemed genuinely interested in my work, including a fellow participating artist, Alison Hill, who finished early. Me on the other hand, barely finished my on time and got it back to the auction tent by 3PM. It was the best live auction yet with a sold out crowd. I would love to do it again next year.
What I learned from this paint-out/auction is that preparation beforehand makes all the difference in the world. The week before, I was on Monhegan Island. Knowing I was going to paint a rocky coastal composition, I focused most of my 16 paintings that I produced on the island during my one week stay, on interesting coastal rock and ocean formations. By the time I reached Cape Elizabeth the very day after, I was exhausted but focused. Painting the larger oil at Boathouse Cove was more a reflex of what I had done all along. This can be a great painting strategy. I also would get into the habit of putting my work away in storage when I would complete them on Monhegan Island. This gave me a sense of starting fresh each time with both hands on the present and the real focus for painting was on the visual challenges at hand. It's very important that you paint in your own style and in the moment of expression when you take part in these kind of events.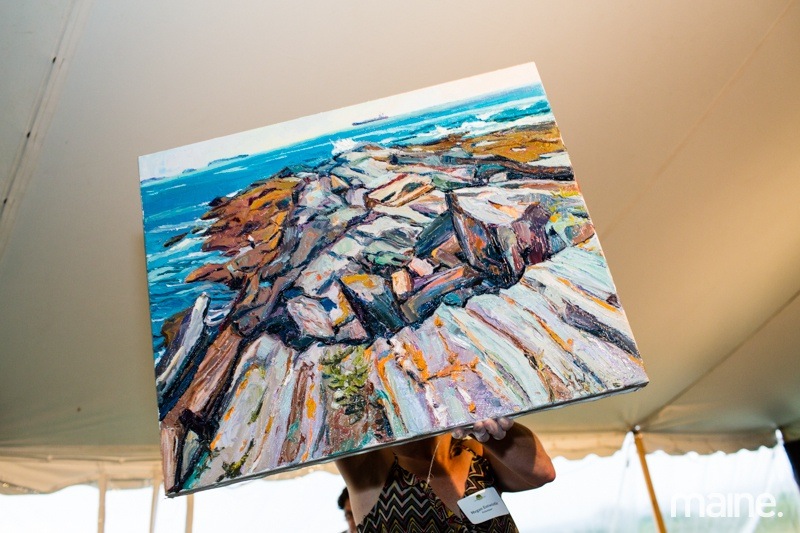 Seventh Annual Wet Paint Auction and Raffle to benefit The Cape Elizabeth Land Trust" (CELT). CELT permanently conserves and provides stewardship for lands cherished in their community - from shore lands to marshes, from farmlands to woodlands - for the education, use and enjoyment of this and future generations. Photo by Sarah Beard Buckley- Faces Of Maine, Maine Magazine.
Paint The Penninsula: Blue Hill, Maine
The next wet paint-out that I participated in was the "Paint The Peninsula" fresh paint silent auction at the Blue Hill Library. It was
held 4:30-7 p.m. Saturday, July 21, at the Library. I was one of 60 artists that started out that day with two 11 x 14 inch blank painting panels and transform them into 2 interesting views the Blue Hill Peninsula. We all brought our paintings to the Library in the early afternoon by 1:00 PM or so and the library quickly transformed into a gigantic art gallery. The reception that took place later that evening featured refreshments and piano jazz player Scott Cleveland. The Winning bids were announced at the end of the evening and the works were taken home right away. The artwork that remained unsold stayed up for another month to give those artists another chance to sell. I sold both of my pieces and was among the highest bid at the silent auction. But this silent auction could not compare to the Cape Elizabeth Auction. But that was the point. When you participate in these wet paint festivals don't fall into the disappointing pitfall of comparing them against each other. They are all different and special opportunities in themselves with their own autonomy. I donated 50 percent of the sale of my work to the Blue Hill Public Library and ran into and met a lot of new and old friends.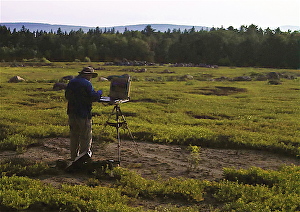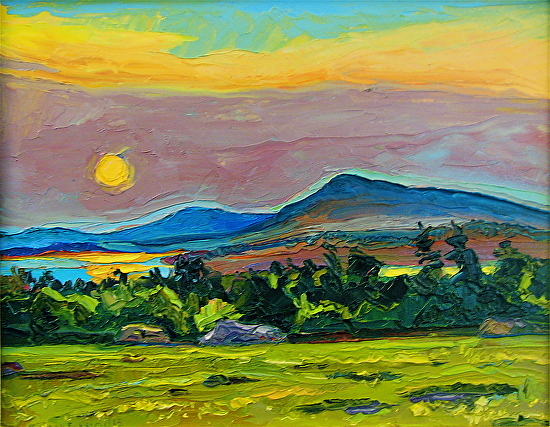 Michael painting the sunrise in a blueberry field. "Sunrise in the Blueberry Fields, Blue Hill, Maine" an oil 11 x 14 inches by Michael E. Vermette, photographed by my wife Elaine Vermette.
What I learned in this wet paint auction was how to listen to the spirit through my painter friend Kay Carter. She is a good painting friend of mine who had directed me late that day before to consider painting at a blueberry field located at the end of the peninsula. She told me how beautiful it was and that I should check it out. Not Knowing the area, my wife and I did just that. We ended up sleeping in our car overnight in that very blueberry field as we watched the moon rise over the mountains of Acadia. The moon rising over the blueberry field was a great painting idea in itself. It is also how I discovered exactly where the sun would rise the next day so that I could set up to paint it at 5:15 am that next morning. It was very hot in the car that night and we couldn't open our windows because of the insects. So consequently, we got very little sleep as we tossed and turned all night. Kay Carter joined us that next morning as my wife went for coffee and sat in the car watching us fight off the black fly assault of the morning. And through the battle we both painted a beautiful pinkish sky with a rising fog bank that the sun eventually burned through. The colors were excellent at this time of the morning and all I could think of was that I would have missed this opportunity if I hadn't taken the advice of my painter friend and checked the site out for myself the night before. On the other hand, she wouldn't have known where the sun would rise if I didn't sleep in that very field overnight. You have to know how you are going to paint a sunrise before it happens to capture it. Otherwise you will chase it as it quickly goes by. We finished at about 8 am. We could enter two paintings, so my second painting I made was of the Blue Hill Mountains from the golf course. Out of curiosity I did discovered this place by accident the day before as I took a side road from the main road. As a painter we must recognize, discern and listen to the voice of the spirit through our friends and even people that we meet. If we are honest there are many voices that shape us and influence what we do, and who we are, such as the words of our grandfather, a former art teacher, or in this case, a good friend. This fresh paint silent auction was a great way to prepare for the festivals to come in that it caused me to listen to those who had painted in Blue Hill before. It also gave a second chance for every participating artist to sell artwork in the later summer months through their follow-up art sale and show.

The Castine Plein Air Festival: Castine, Maine.
The Castine Arts Association hosted a wonderful festival this year for all! They juried in 40 juried artists from around the northeast and Canada for a three-day plein air festival. The Weather started out with a down pour on first day, but conditions began to improve as skies cleared and artists enjoyed warm sunny days that would follow. Most of us painters attended the "Meet the Artists" social on Friday, July 25 and then went to paint after. It was well attended by artists and the festival committee members, sponsors and hosts, and provided a pleasant pause and refreshment opportunity for all before we finished the next day. Saturday's Reception, Award Ceremony and Sale drew large crowds and brisk sales of art. The award winners for 2014 were as follows: First Place, Philip Frey of Sullivan, ME; second place, Roberta Goschke of Waldoboro, ME, Third Place, Paul George of Ipswich, MA. Five Honorary Mention winners were Myself of Indian Island, ME, Suzanne Savage Brewer of Sidney, ME, Chrissy Pahucki of Pine Island, NY, Michael Chesley Johnson of Lubec, ME, and Chrissy Nickerson of Cape Rosier, ME, and Alberta Cananda. Congratulations to us all!
Elaine and I stayed at a beautiful cottage apartment near the village that was owned by Janet and Verge Forbes out on Merry Mead Road in Castine . They were very accommodating and gracious hosts that made our stay very comfortable. This place had was in a beautiful location and provided a place to retreat to as my painting collection grew over the days.
I learned to be led by the spirit in this festival. Others may call it," follow the beat of your own drum." Because there is so much that
can distract you in the words let drop by other artists and weather conditions. You just need to listen to your heart and make choices. Things like, how you prepared for a festival like this; or if you were going to drink alcohol at the social; and do thick paintings ever really sell anyway?; can enter your mind that have nothing to do with being present to the festival. Sometimes the very weather became a obstical, although it is interesting that the best in show painting was painted during that very shift in the weather pattern.We all simply found places to paint and took advantage of places where we could live in the moment of our expressions. I'm happy to say that most of my impasto paintings did sell and I even received a special merit award for my painting, "The British Canal, Castine" an oil on panel 11 x 14 inches.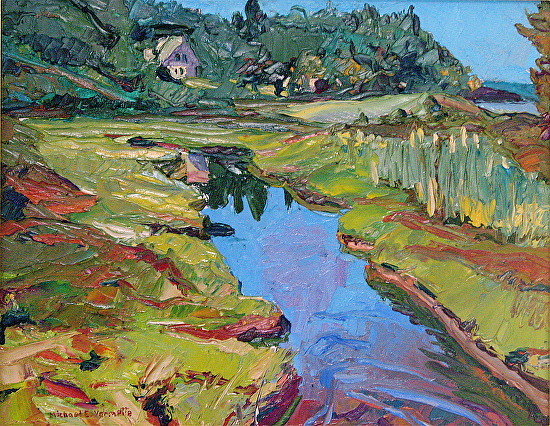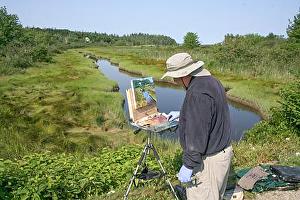 "The British Canal, Castine" an oil 11 x 14 inches by Michael E. Vermette a special Michael painting at the British Canal in Castine, Maine. merit winner at the Castine Plein Air Festival 2014.
What I took away from this festival is the importance of being yourself, following your own convictions, and allowing yourself the freedom to be asocial. It is so important to go at your own pace and in your own style especially in a festival when there are so many painters working in the same place in so many different ways. Even though I had observed where other painters chose to set up on site, I simply never found the need to compare or look at their painting while working. My reason for this; even though I respect their unique style and work process, I don't want to be influenced by another artist. This is my moment when I make a huge draft on all my past painting experiences and in that moment of expression find myself completely engaged in visual problem solving. It is not a time to second guess myself or to ponder a lot of "What If's", as in "what if I use the same method as another painter?" Great painting for me always happens out of a need to respond to the subject in the moment based on what you know. There is little time to treat plein air painting in a festival as an opportunity to socialize or as an opportunity for study. This is a moment of expression. And although painting on location is a beautiful thing to watch other artists do, we need to realize that we are that painter. We can't be spectators and artist at the same time. We get to partake in that aesthetic expression ourselves. And because of that privilege I think we would be wise to choose which social events would help us produce great art, choosing carefully. A-socialism is not Anti-socialism. It is being selective by putting the art process before the hype and boastful talk. I learned to let go of what people would say and how they acted, especially if it had very little to do with painting. After all we are not there to project an ora of fame around ourselves. We are there to paint and to become inspired by our subjects. That in itself is enough of a privilege in itself for me. Once you reach that confident peaceful place within yourself, the selling, the fame will take care of itself.
Ninth Annual "Paint the Town" paint-out and fresh art auction at The Waldo Theatre
The Bangor Plein Air Paint-Out and Auction, "Painting A Pathway to the Bog" at the Gracie Theater, Husson College.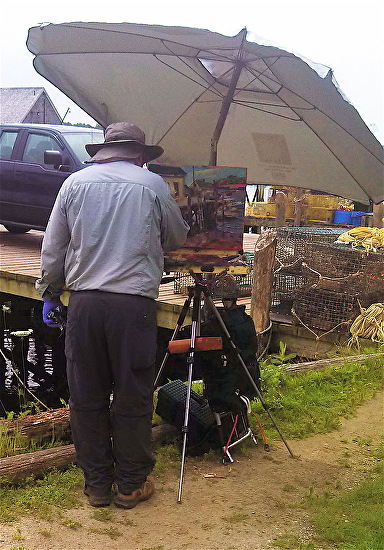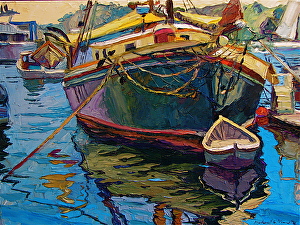 Michael Vermette paint at the waldoboro Fresh Paint Plein " The Angelique in Camden Harbor" an oil on canvas 18 x 24 inches
Air Paint-out and Auction 2014. By Michael E. Vermette. (A painting that sold after the Waldoboro auction).
On August 2nd I participated in the Ninth Annual "Paint The Town" paint-out at the Waldo Theater with a preview and reception for the artists at 5 PM and an art auction 6 PM. I also painted in the Bangor Plein Air Paint-out and Auction, "Painting A Pathway To The Bog" at the Gracie Theater at Husson College, with a reception, preview and live auction as well on August 16th. Both of these auctions were non-juried plein air events for the artists and were held at beautiful theaters with a live auctioneer. But curiously enough, both events lacked the buyers that these organizations expected. Most of the works were unsold throughout the night and oddly enough the live auctioneer at the Waldoboro Fresh Paint Art Auction did bid on the pieces herself trying to stimulate bids. This is never a good sign. By the end of the auction there were some paintings that sold but usually 1/2 to 1/4 of what they were worth, really no money at all. But it did give the painters at least two opportunities to sell art with a lot of extra considerations for the painters.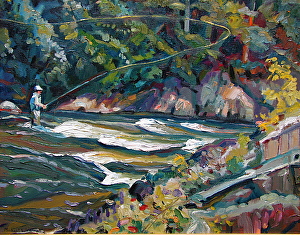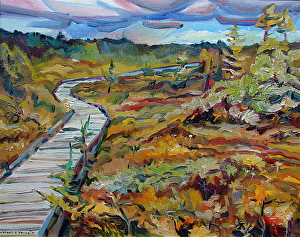 "Fly Fisherman on the Kenduskeag Stream" " The Orono Bog Boardwalk at the Bangor City Forest"
an oil 16 x 20 inches on canvas by Michael E. an oil 16 x 20 inches on canvas by Michael E. Vermette.
Vermette.
Interesting enough, with both paint-outs I learned to never give up on a potential sale that could come after the auction is over. In both Auctions such as, I sold paintings through the auctioneer and the other paintings that did not sell I sold on the way out the door. The lesson is that even though prices are not announced by the auctioneer for paintings that are sold after the auction it could be, as in my case, that you could end up being the top-selling artist by a walk out sale by the end of the event. So I learned to look for these opportunities and how to take advantage of directly selling to a buyer after the auction. I believe no one can sell their artwork better the artist anyway, so I would watch for the people who spent time with my paintings and approached them confidently about the art. I would begin by introducing myself and allowed the conversation to grow from their. I realized that even though the paintings were selling for less there were still buyers who were also lingering and who were giving it another thought and possibly needed just a little nudge of encouragement by the artist who painted it. After all, the paintings were going for pennies on the dollar and if you didn't mind as an artist, it was a great opportunity to buy paintings.
The Trails End Festival Plein Air Sale at the North Light Gallery in Millinocket, ME.
The Trails End Plein Air Festival took place in Millinocket through the North Light Gallery and was a four-day paint-out from Friday September 12th to Monday, September 14th. I was actually only able to take part on Friday afternoon and all day Saturday. Having to teach art classes at the Indian Island School, I actually didn't get to painting in the Baxter Region until 4 PM in the afternoon on Friday when most of the painters were returning. Directed by gallery owner and friend Marsha Donahue, I painted at Compass Pond just off the Golden Road for my first oil painting. This art sale also allowed multiple paintings that could go on display at the North Light Gallery.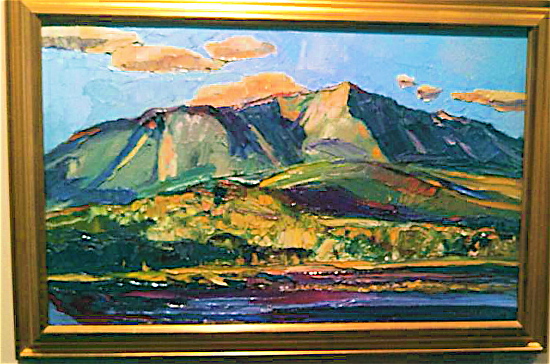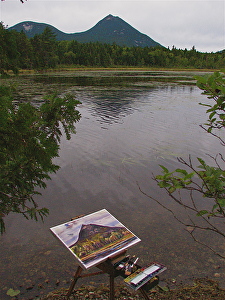 "Katahdin From Compass Pond" an oil 16 x 20 inches by Michael E. Vermette. Doubletop from Kidney Pond, a watercolor
19 x 25 inches by Michael E. Vermette CLICK HERE.
The pond was unbelievable with lily pads in full bloom and great fall foliage reflecting from the mountain's rich autumn colors. The next morning I was able to walk with "the Artists of Katahdin" in the Parade carrying one of my paintings along with two others painters. Behind us two other painters carried our banner with the owner, Marsha Donahue. Next year we might throw out art supplies such as crayons to kids. And although it was the shortest parade I had ever participated in, I really enjoyed how well received the painters were by the local people. After the parade, all the painters went back out to paint. I went to Kidney Pond to paint a Lowery overcast view of DoubleTop. But what made it exciting for me was the bull moose that came out into the pond and stayed for over an hour. Submerging his head down under the water to consume the plentiful water grass, he no doubt was enjoying the salad bar. I had to use a canoe to get to my location and enjoyed discovering the remoteness of this new location. In fact there were many new painting possibilities that I hope to return to later in October.
I learned the value of this festival and that when you take part in a festival like this, you need to be available. The advantage of talking and meeting with other painters of Katahdin in a gallery setting, having an opportunity to show with them and share the rich ideas that are among the group are invaluable. That means you need to carve out time and set a priority for yourself to be present to the other artists and most of all your own painting on site. Next year the plein Air Festival might begin Thursday September 25th and I'll be ready this time because I hope to serve on the planning committee with Marsha and other painters. It promises to be one of the best Katahdin Plein Air Festivals ever!
In closing I just want to say how these paint-outs, wet paint auctions, shows, sales and festivals were a lot of fun to participate in. They represented a lot of good causes that I was able to support through the sales of my work. This makes me proud that my art in a small way is changing our world for the better. And next year if I have the opportunity to do it again, I will continue down this plein air painting trail with the insight that I will be more ready, allow myself to be led by the spirit more and listen to the spirit of truth through my painter friends. I will resolve to make myself more available by carving out time to fully take part, and never give up on the opportunity to sell my paintings to the right buyer no matter what the autonomy. Wet Paint/Fresh Paint opportunities not only give the artist a chance to support causes, but they also get you out into our beautiful state to discover beautiful areas that you may have never painted before. On the other hand, returning to the same place year after year is nice too because it will never be a matter of running out of subjects to paint for me. Because if painting is more about listening to the spirit and allowing yourself to be inspired by the landscape at the moment and less about finding new places to paint, then there will always be an endless supply of images to draw from in Maine for me. Fortunately, Maine has both!
I wish to thank all of those who made my painting on location in these events this summer so special. My wife and I are so blessed, grateful and enriched to have worked with you all. We look forward to next summer with hopeful expectation towards new adventures.
All the best to you all,
Michael E. Vermette
Coordinator of the Plein Air Connection
Comment on or Share this Article →
---
---
---
---
---
---
---
---