---
THE PlEIN AIR CONNECTION September 11th, 2014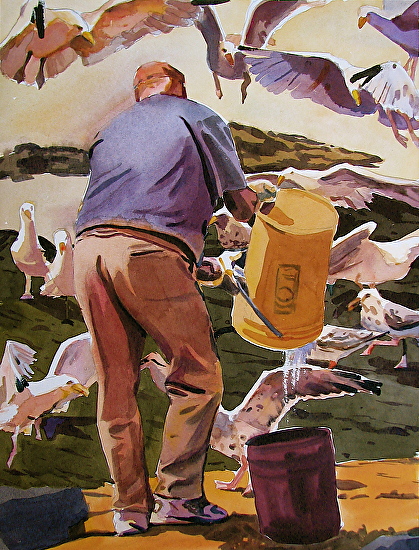 "Feeding the Gulls Lobster Shells" a watercolor 19 x 25 inches by Michael E. Vermette
Selected for the New England Watercolor Society's 14th Biennial North American Open Show 2014 at the Plymouth Center for The Arts in Plymouth, MA.
The North American Open Show of the New England Watercolor Society 2014.
On the first week of October, I will be traveling to Plymouth, Massachusetts to enter my painting into the 14th North American Open Show sponsored by the New England Watercolor Society. The watercolor show, which includes watercolors from watercolorists all over the country, will be on display October 18th at the beautiful Plymouth Center for the Arts in Plymouth, Mass. This is very exciting for me because I only need to be juried into one more group show sponsored by NEWS to apply for signature membership. Needless to say I plan on doing a lot of watercolors this year to increase my chances. Awards will be announced at the opening reception on October 18th from 2-4 PM and I will let you know if my work is selected for any awards.
The start-up meeting date for the Plein Air Connection.
It is time for the Plein Air Connection Group to reconvene and plan our schedule for the Fall and Winter months. We will need to decide what book we will want to discuss, so please bring in your suggestions. We will also plan where we would like to paint in the state and abroad. There has been some discussions about returning to previous locations and new areas we have yet to explore. Also we want to keep each other updated on which plein air shows and festivals we would like to encourage our group to apply for and take part in for the coming 2015 year. Many festivals and wet paint auction committees are already planning for next year and we should be informed about their deadlines.
We'll need to decide how often we will want to paint outside and what opportunities we have coming up for weekend paint outs in the Fall and Winter months. The first Plein Air Connection meeting will be Saturday, September 20th from 10:00 am to noon. We will meet at the Peace and Justice Center in Bangor which is located at 96 Harlow Street, suit 100, Bangor, Maine. It is across the street from Peirce Park, next to the Bangor Public Library.
We hope you can make it to the meeting and help us plan our Fall and early Winter activities!
Two One-Person Shows in the Area.
The Art Walk for Bangor is this Friday and 10 of my works are now on display at 11 Central restaurant. The work looks great on their brick walls and the other painted walls that are colored perfectly for artwork in mind. So it is a beautiful place to show artwork and I hope you can get out and see my work and the work of others at this fun event. I am displaying some new works along with works that have not been exhibited for years. This is a good chance for you to see a small cross-section of my work over the years and I hope you can get out to it and try out their excellent cuisine.
I am also showing at the Audubon Fields Pond Nature Center 216 Fields Pond Road, Holden, Maine. I am showing 10 plain air works that I have painted throughout last year. I have made these paintings available and affordable for everyone and I hope you will get a chance to see the show and maybe buy a piece of your own. We had a wonderful workshop there on Saturday, August 23rd and I would recommend it as a great site for Plain Air painting. They are also looking for future artists to show their. My show will be up until the end of November, 2014.
If you missed the broadcast you can get a glimpse of one of my paintings on WCSH 6 Route 201 special that featured my painting along with other works from (MARC) Monhegan Artist Resident Artists. Mine is a watercolor of Vern Burton, a Monhegan Fisherman rowing in the harbor of Monhegan.
THE WEEKEND WE WAITED ALL SUMMER FOR IS HERE!
Open invitation to all artists to the paint-out during the Trails End Festival next weekend. Register for $10 at North Light Gallery from 8 a.m. Friday, the 12th, paint all day and then exhibit your work all day Saturday, the 13th at North Light Gallery during an open house and reception with refreshments and live music with Mark Miller. What could be more fun and, word is, other artists are coming so you won't be painting alone. For more information, call Marsha at (207)723-4414 or email artnorthlight@gmail.com.



We welcome spectators both to the sites and to the reception so plan to visit the artists on Friday and celebrate on Saturday. Many artists stay to paint on Sunday, as well, and the gallery will be open 10-6.
The Trails End Festival will have great music, crafts, and food...and special feature is a pub crawl...so don't miss a good time. We'll see you next weekend!
Marsha Donahue
North Light Gallery
256 Penobscot Ave Millinocket Maine 04462
207.723.4414 ~ 800.970.4278
I will be going up on Friday after school at 2 PM to reconnoiter the area and painting most of the day early on Saturday and into
the afternoon. If any of you would like to join me I will be painting Katahdin from Daicey Pond on Friday and/or Chimney Pond on Saturday. To coordinate with me call me at (207) 827-7573 or e-mail me at Michael.Vermette@roadrunner.com.
Have an fun-filled month saturated with creative inspiration!
Michael E. Vermette
Coordinator of the Plein Air Connection
Comment on or Share this Article →
---
---
---
---
---
---
---
---
---