---
---
---
---
---
---
---
The Plein Air Connection Newsletter, January 1st, 2015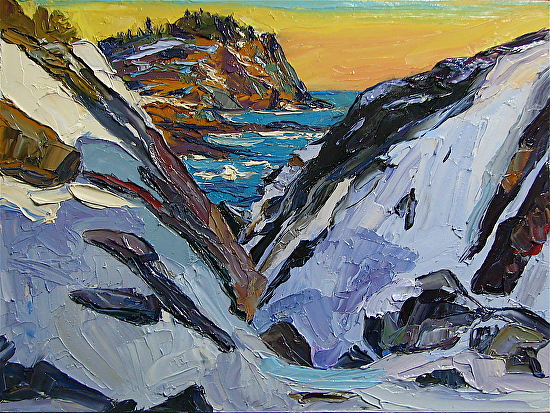 "Wintery View From Gull Rock Ravine" an oil on board 12 x 16 inches by Michael E. Vermette
FEAR and ART
A review of our Last Book Discussion 12-13-14
Chapter Three
Fears About Yourself
We began our discussion by addressing the quote from Pogo- in the context of how it is up to us as artists to solve problems that come up in our art especially when there is a temptation that exists to act out of fear -
"We have met the enemy and he is us." -Pogo
How curious a thing it is that our very fears of failing in the very making of our art, those outcomes we are trying to avoid, can be the very things that we run into in the end. Is fear a spirit that subverts the artist causing one to undervalue the work itself? One thing's for sure, making art is a lot of work. And in a moment of weakness we can find ourselves caught up in a spirit of fear that falsely judges other artists who we feel are more extra-ordinary than we are, and how that fear can produce a very real excuse to quite making art and give up trying to understand it because "What's the use?" That whole attitude of putting others above you because they are better than you are, or have been painting longer than you have or the categorizing of them as the "Big Painters" or "Serious Painters" can really effect how we continue in the making of art ourselves. The fear that we are somehow "pretending" to do art compared to those that are more "genuine" is a myth and is the voice of this spirit of fear that causes us to undervalue the very thing that is essential and vital; and that thing is our art.
Our art needs to be respected by ourselves and others; not undervalued. Why? Because there are spiritual forces that are operating through us in the very making of our it that is very sacred and worthy of honor. When fear causes us to disrespect our art or when we allow others to disrespect it, we get cut off from the very source of where our inspiration comes from. Our art is not only our legacy but a living inspiration to us as artists. We all have had moments when we have been disrespected, but we all agreed that our work needs to be respected. We must be ready to defend our art and value it. The solution to fighting off the enemy within is to realize that someone is required to do our work and that we are the nearest person around who can do it. Yes, it takes a lot of energy and faith commitment in the process that creates and keeps the work; but in the end we are the only ones who can create and represent our work.
We also talked about how it is such a waste of energy to worry about how much talent we have. If talent is truly a "gift" that only we can revoke out of fear, than why shouldn't we all the more seek and ponder direction and a cause. We all admitted the fears of "What If's". Such as what if we started our art making at a younger age or what if we had only devoted our whole life fully to it instead of a taking on a part time job. "What if" thinking can be a very real fear that leads us to wonder if we will ever have enough time to produce the art of our desires and dreams or any real art of significance. The truth is, anyone at any time can produce an effective work of art if they have a solid cause to engage in or a real direction to commit to. Great art depends more on inspired direction and commitment rather than talent alone. Lets face it; there are a lot of distractions in life, especially this time of year. But if we can identify a meaningful cause or direction for our art to go in and make it a priority to show up to make the work, than something amazing will happen most all of the time. Even child prodigies, who rely upon their gift alone without developing further, will peak quickly and fade to obscurity like a nova. The point here is that we are all given a gift. Once we realize it we need to learn to develop a discipline to work on our work. Which is really a process of committing oneself to sharpening skills and acquiring new ones to get better at working on the work. Every great artist that I have researched, whether a painter who painted from memory with hands behind back or from direct observation with both hands engaged, had one thing in common. They both went back to their studios and worked on the work. They discovered a real direction from the work itself away from the original source of the inspiration. They all had or developed numerous studies, preparatory sketches and multiple paintings depicting many directions from one plein air experience. Could it be that many plein air artists avoid developing their art further in their studios because they desire to avoid perfectionism for a more spontaneous look? Maybe. And yet all artwork created out of a fear of the work having to be perfect is domed from the very start. We all agreed that all art is flawed because we are all human. Art is not perfect and the studio should be a place of risk and exploration with works that are close to and inspirational to the heart. Procrastination should be the farthest attitude experienced in the studio since it is an exciting place where many mistakes can be made and learned from. We all agreed that, " the seeds for our art work lies embedded in the imperfections of our current piece." These imperfections are valuable and an excellent guide of what to develop further. This interaction between the ideal the artist is reaching for and what the art really becomes in the end, ties the art into the real world while giving meaning to both the real and spiritual realm.
For example, I remember Ann Hubert once told me of a woman who approached James Fitzgerald about one of his paintings. She said quite exuberantly," That is really a beautiful painting!" and Jim replied, "You should see it in my mind!" Jim also told Ann that," Painting isn't perfect, Furniture is!"
We need to be confortable with our humanity while reaching for the ideal. In this book, Art and Fear, Ansel Adams is quoted to have said something similar by saying, "the perfect is the enemy of the good." His point, the author continues, "is that if he waited for everything in the scene to be exactly right he'd probably never make a photograph." To require perfection in your art is to invite a fearful spirit of paralysis upon yourself as an artist. Nothing good will come out of it.
The truth is, the artist is always reaching for the ideal in a painting, but what is actually produced is a substandard version of what is actually invisioned but what makes the artists connected to this world. This work in all its imperfections is the very vehicle that connects the painter to others. Once the artists gets beyond the fear of thinking art has to be perfect, than the art is free to actually becomes more human friendly. The artists is then free to produce excellence while reaching for the stars.
Another common fear is the fear of annihilation, sometime described as a "dry spell." There is a very real fear that comes from attaching one's personal identity to close to their artwork. The fear is that if they cease to make art they cease to exist. The fear of being complacent and that some part of you will die if you stop making art, yields to a fearful flood of self-criticism of what could have, should have and would have been if only I continued. The truth is we are worth more than our art. Moreover, until we realize that our art does not define our identity but we define the identity of our artwork, we will never create anything excellent. The artist is always free of the fear of annihilation when the artist defines clear parameters for their work. Sometimes called, "Narrowing your focus" opposed to being so scattered or nilly willy, establishing clear parameters is always a good idea especially when we decide to take charge of your art and define our identity in it.
While watching the Antiques Road show on MPBN I caught sight of a early Chuck Close painting that an uninformed owner came in to estimate the value. This painting looked nothing like the photo-realistic Chuck Close I had recently seen at the Colby College museum of Art and in other modern collections. The appraiser then said something astonishing that I never knew about Chuck Close. It seemed that Chuck was very inspired by the modern expressionists William DeKooning but never felt he would be as good a painter as him, so he abandoned that style and went on to produce the works he is know for today. This painting was made while he was in college and in my estimation an excellent painting that rivaled DeKooning and was estimated for over $300,000.00! But the point is was not how much the painting was worth but that Chuck Close came to a place in his life where he decided to narrowed his focus and defined his identity in the modern style of photo realism. He went beyond his fear of what he thought he could never be and became Chuck Close.
The fear and deception that art is a matter of magic and that the suspicion we have when our own artwork turns out well and we consider it a "fluke" but when it turns out poorly it is an "Omen" is a destructive attitude. particularly when comparing ourselves to another artist. The truth is that every artist is amazing and that their talent is theirs and your talent is yours. You don't need theirs, you don't lack talent because you see something different in others, and further more it has nothing to do with yours. We all have our own magic. More importantly we all have our own gift that only we can develop. So we ought to be about working on our work instead of wishing we had the unique ability of another artist. By down playing our own successes as a "Fluke", we deny the reality of our own brilliance. By defining our poorly executed works as an "Omen" we turn the very source of our future works into a downward spiral of expected failure. Great painters never did this. They viewed their failures as the source of inspiration to continue to work on the problems that existed in their paintings. They view success in their work as reaching a significant plateau that, with more work, will inspires the next level of excellence.
The last fear we talked about was the fear that comes from unreasonable and unworkable expectations we place on our art making. These expectations are based on illusions and not reality. They almost always lead to disillusionment. But expectations that are based on the work itself are the most useful tools the artists has. The present work always informs the next to the extent that everything you need to know about how to proceed in the next work is contained in the present work. If you ask any successful painter what his or her favorite artwork is that they have painted, they will almost always refer to the one they are currently working on presently. Why? Because to overcome the fear of meeting unworkable expectations we need only to ask our present artwork what it needs not what we need. When we set aside our fears and listen to our art like a good parent listens to a child, expectations are put into a workable perspective. Sometimes we make lofty plans for art making in the new year but have forgotten what motivated us in our last work because it has been so long since we have painted. Sometimes we don't even remember the last painting we completed. We make lofty plans without even asking the work where it wants to go because we are concerned about where we want to be as recognized artists. The good news is that we can overcome the fear of resolutions that are rooted in unreasonable expectations if we simply spend some time with our recently completed works. If we begin where we left off and let the voice of our last painting experiences give us direction one painting at a time, we will make the steady progress that leads to greatness.
In conclusion, the spirit of fear in making art can make us undervalue our work. It can cause us to lose direction. It can steal our vision, paralyze us, and even cause us to lose our identity. This can lead us to create unworkable expectations for ourselves that can bring us to a place of disillusionment. As artists we must arise and engage in the battle of working through our fears and not camp out in them. We must fight back or fight through with courage and confidence that comes from remembering our past successes and believing that we can do it again in an even bigger way. There will always be fears that exist in our art and the artistic world around us. But how we push through it and fight back defines our very success and happiness as artists. Peace comes by fighting the good fight and passing through our fears to meet our successes on the other side. In this New Year, lets not just wrestle with our fears, lets pass through them. True greatness will always await us on the other side!
The Next Book Discussion 1-17-15
As you can see our last book discussion was a very rich discussion and we hope to do it again. The next book discussion will be January 17th at Kay Carter's House between 10 and noon. The Book we have chosen to read is:
ART AND FEAR, The Perils and Rewards of Artmaking by authors David Bayles and Ted Orland.
Please read Chapters Three to four an be prepared to participate in a lively discussion at Kay Carter's house from 10 am to 12 noon. She will be making a wonderful corn chowder and would like us to bring drinks and bread. To coordinate please call me at 827-7573.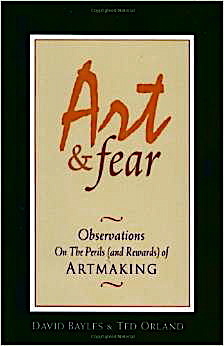 76 Main Road S

Hampden, ME 04444

Telephone Number: 862-3957
Directions to Kay's house:
From Bangor: Go south on Rt 1A until you get to the center of Hampden. Go past the old Hampden Academy on the left. Go down a hill and 2/3 of the way up the hill on Rt 1A. Our house is on the right. There is a '76' number sign on the front lawn. It is about 1/2 mile south of the old Hampden Academy. If you reach the Kennebec Rd you have gone too far. The house is a big old clapboard house with a red barn facing it. House color: two tone putty.
From I-95: Take exit 180 (Cold Brook Rd). Go right at the end of the exit and follow ColdBrook Rd to Rt 202. Turn right on 202 and follow it to the lights. That is Western Ave. Turn left on Western Ave and follow to Rt 1A. Turn right at 1A and follow the directions above. When you reach 1A you are about 1 mile from our house.
Upcoming Book Discussion Meetings: January 31st at Kay Carter's House.
February 14th at Kay Carter's House.
February 28th at Kay Carter's House.
Program Description:
There is a huge movement of painters around the world who are gathering to share resources and their deep appreciation of painting outdoors in all seasons. Weary of workshop formats, conference schedules and structured studio courses, these painters are forming their own groups that are free to paint outdoors directly from nature and from the spirit within. The Plein Air Connection is a generous group of artists who believe that drawing and painting on location is a spiritual practice of faith as much as it is a matter of learning from nature. It is not cheap, it comes with a price, but it is absolutely free to participate in. We find that plein air painting is a great way to allow yourself to be influenced by the art spirit entering into the very life of the painter through the outdoors as a setting where we engage. Painting like a find, the Spirit of an idea possesses us as we discover the hidden meaning in each location. This is at the heart of making beautiful paintings that not only impact our world but can produce positive change for those around us.

This kind of painting creates its own health benefit and market, not the market or health creating the work. We are not interested in art as a means of making a living as much as we are interested in art as a means of living a life. Plein-Air Paint-outs, wet paint auctions, and fundraisers are all examples of how the tangible beauty in the work can inform and awaken our world. So the journey to become a skilled plein air painter is grounded in identifying what the Spirit has prepared for us on location as a subject idea. Then by making a painting from nature that captures the true essence of color, light, shade, texture, tone and shape, we bring to life a new work that responds to our experiences. Many artists paint studies and sketches on location and use them for references for larger studio works, a tradition that has been passed down from the great painters such as Frederick Church, John Constable, Winslow Homer, John Singer Sargent, Marsden Hartley, James Fitzgerald, and many modern painters today. It is considered an important discipline for figurative Painters to master as well.
Guidelines for the Group
1. You must have fun and be willing to be open-minded enough to encourage a passion for plein air painting in each artist. This group develops a contagious confidence in art making in a supportive atmosphere.
2. You must be respectful of the many ways artists create their paintings. The Spirit is the instructor, not us.
3. You are encouraged to paint 2 to 4 hours on location with the group but also on your own with the Spirit as your guide. Painters are encouraged to tell the group where they are going but are allowed to go off on their own to be alone with their subject.
4. You are encouraged to share your painting and a meal with the group. We are big about sharing meals together because it helps us to forget the painting struggle as we celebrate our accomplishments and refocus on our works with fresh eyes in a supportive group critique setting.
5. All personal expenses are the responsibility of each artist including, money toward gas, meals, lodging, and travel tickets for boats and planes. There is no dues or fee to belong to this group.
We try to meet every other week to paint and in the winter months we hold additional book discussion meetings twice a month to encourage each other by reviewing an inspiring art book. We discuss ideas about where to go for a painting location and are not limited to a local area. In fact we have been know to travel all over the state and organize painting retreats at cost to our participants. We plan our trips accordingly as we car pool as much as possible to save on gas. If you love to paint or draw outdoors en plein air and would like to gain a new perspective in co-laboring with the Spirit to make beautiful art, then we would love you to join us.
"The object isn't to make art, it's to be in that wonderful state which makes art inevitable."
- Robert Henri
Paint-Out Dates for January 2015: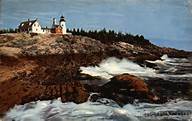 Saturday 1-3-15: Pemaquid Point Lighthouse Park, Maine

Description: Rising above crashing surf and spectacular rock formations, the Pemaquid Lighthouse is a cultural and historical treasure. Each year, about 100,000 visitors come to explore the park grounds, take in the panoramic view of the Atlantic and marvel at one of the state's best known icons. It is so honored that, in 2003, Maine citizens voted to use its likeness to represent them on the state quarter.
The tower and Keeper's House were constructed in 1827. But neither lasted long, perhaps because the builder used salt water to mix his lime mortar. The second contract stipulated that only fresh water be used. The new tower, built by stone mason Joseph Berry from Georgetown, was completed in 1835. A new wood frame Keeper's House was added in 1857.
At about the same time, the tower was upgraded with new technology: the Fresnel lamp. The beacon that shines today is that same, fourth-order lamp which can be seen 14 nautical miles out to sea.
Car Pool: This will be an all-day paint-out and we will meet at Kay Carter's House to car pool leaving by 7:30 am.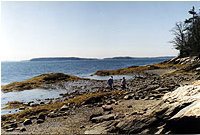 Saturday 1-24-15: Wolf's Neck Woods State Park and Bowdin College Art Exhibit, Maine
Description: Wolfe's Neck Woods State Park is a five minute drive from the center of Freeport's bustling shopping district, and as visitors approach the park, marshes and open fields provide a tranquil transformation back to nature. In 1969, this area of more than 200 acres was given to the State by Mr. and Mrs. Lawrence M.C. Smith of Freeport. The park contains varied ecosystems, including climax white pine and hemlock forests, a salt marsh estuary, and the rocky shorelines on Casco Bay and the Harraseeket River. After painting we will Also check out the exhibit at the Bowdin Colleg Art Museum called "Rocks, Waves, and Skies: Maine Landscapes, 1900-1950." For more information please click on the link below:
http://www.bowdoin.edu/art-museum/exhibitions/2015/rocks-waves-skies-landscapes.
shtml
Car Pool: meet at Dysarts to car pool by 7:30 am.
Upcoming Paint-Out Dates for February 2015
Saturday 2-7-15: Bigalow Mountain Region, Maine
Wednesday through Saturday 2-18-15 to 2-21-15: Katahdin Lake Wilderness Camp Retreat, Baxter State Park, Maine.
Please Call Michael E. Vermette at 827-7573 for more information.
The Plein Air Connection Winter Painting Retreat. It's not too late to register!
February 18th-21st, 2015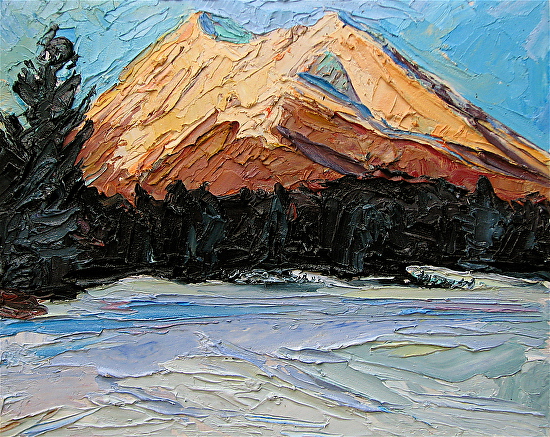 "Katahdin Alpine Glow from Katahdin Lake in February" an oil on oak panel 8x10 inches by Michael E. Vermette.
There is still time to register for the Katahdin Lake Retreat in Baxter State Park, Maine! There are views like these and many more awaiting up to 8 artists and so far we have 5 going. Our retreat concept is simple. We all paint on our own during the day, supported by Holly Hamilton our guide, and the other artists who suggest great places to paint in the morning at breakfast. You can paint with someone or completely on your own. It is totally your call. Then after dinner, we will all have a supportive critique and share the work we have made from our day's experiences. There is no instruction, just a lot of fun and wonderful fellowship with artists supporting each other to paint in a spectacular place en plein air.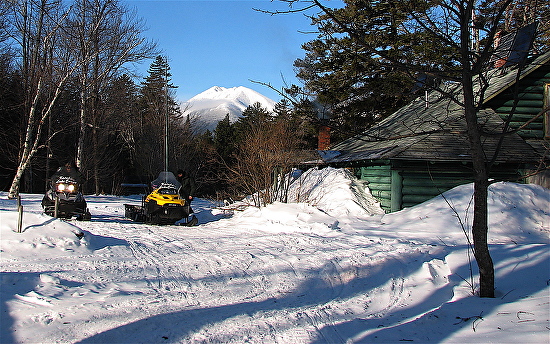 Snowmobiles and staff at Katahdin Lake Wilderness camps.
We will park our cars at the public parking lot below the Abol store on the Golden road. We will meet Holly Hamilton, Katahdin Lake Wilderness Camp owner and guide and her staff there who will be taking our gear into the camps and giving us a ride from the Abol store on the Golden Road to the Togue Pond Gate House. After she brings us to the Togue Pond gate house in Baxter Park where we are expected to cross country ski or snowshoe up to 6 miles or as much as we can. If we can not make the whole distance she will bring us in individually by snowmobile. Otherwise she will give us another snowmobile ride from Avalanche Field into Katahdin Lake Wilderness Camps an extra 3.6 mile ride. The total distance into this beautiful and remote camp is approximately 14 miles one way.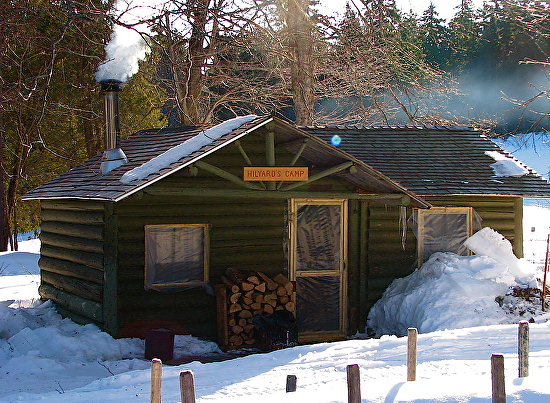 Hilyard's Camp at the Katahdin Lake Wilderness Camps.
Once we are there we will be occupying up to three cabins that we will be staying at for three nights. The views from this place are absolutely stunning with the advantage of setting up our easels right on the lake. The cost of the four-day painting retreat is $ 435.00 and includes your snowmobile ride in, the transporting of all your gear via snow sled in and out of the camps, three meals per day and your shared cabin. We are required to bring our own sleeping bags and of course our warm winter clothing and paint gear.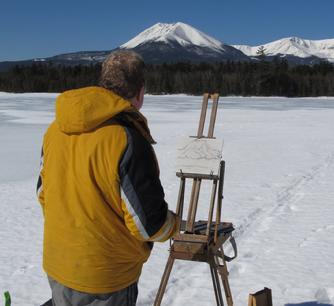 Michael E. Vermette painting Katahdin en plein air on Katahdin Lake.
The meals are especially wonderful. Rachel and Holly do an excellent job accommodating our every need. Although you can bring your own food we will all be opting for their modified meal plan so that we can concentrate more on painting rather than preparing food. let us know if you have any special dietary needs when you send your deposit.
If this is something you would like to do, please notify me immediately at Michael.Vermette@roadrunner.com and after, mail your desposit of $93.75 to me at 14 Rolling Thunder Drive, Indian Island, Maine 04468. Registration is at a first come first serve basis and already I have five particpants who have committed to the weekend. So please don't delay in notifying me and sending in your deposit. We need to know within the next week or so. The rest of the balance will be due at the end of your stay.
Here is the breakdown per person From our Guide Holly Hamilton:
Three nights for one with meals 375.00
Shuttle for one to Togue and gear
all the way in round trip 30.00
As always Holly can not give anybody a ride on the six miles of Roaring Brook Road. The exception is if someone can not skii or snowshoe any more and are "Done" for the day. She can then bring you all the way into the camps. If anyone wants a ride on the Katahdin Lake Trail there will be an additional charge of $10.00 per one way trip.
To hold a reservation she asks a 25% deposit of the total before any shuttle fees are added or the Maine tax applied. In this case that would be $93.75 per person.
There will be up to three cabins available to us depending on the final count of who's actually going. Please know that you will be sharing a cabin with someone else. Also, Please confirm that you are going by e-mailing: Michael.Vermette@roadrunner.com or calling at 827-7573 and sending in your deposit of $93.75 asap. Your balance will be due on the last day of your stay.
by the next week. We will also make sure everyone in your party knows who is bunking with who before we arrive. This is an exciting opportunity of a lifetime and i hope some of you can take advantage of it.
Adult Education Watercolor Class a Bangor High
I will be teaching another watercolor painting class at Bangor High School starting January 26th, 2015. We will hold the class between 6 PM and 9PM on Monday nights. Although I did not put it in the course description, we will be approaching the course a little differently by reviewing a selected watercolor artist each class in art history and learning how they combined different techniques and used different methods to make their award winning watercolor compositions. Basically the same material as last year's watercolor composition class but with a totally new spin on it that reveals painting methods, approaches and watercolor painting styles. If you would like to register on-line please click the underlined "The Winning Compositions of Watercolor Painting" below, and it will link you right to registration from this site. This is a new class approach I am using and hope to impart a lot of new information to the artists who participate. Hope to see you there.
Arts & Crafts
The Winning Compositions of Watercolor Painting
with Michael Vermette

Jan 26, 2015 at 6 pm
, runs for 10 weeks
This watercolor painting class is for those students who have achieved a basic level of technical proficiency in watercolor painting and want to explore compositional methods that will improve their skills as a visual communicator. These lessons are based on ten techniques most often used by famous artists presently and in art history.
The instructor will demonstrate each week a new compositional approach and encourage in-class assignments that will challenge the painter to entertain the viewer. The class will also assign out-of-class assignments so that the student can put into practice their newly acquired skills. Students will work from their drawings, photographs and direct observation. This course gives compositional insight through visual presentations of watercolor movements and artist trends that have elevated watercolor painting to what it is today. This advanced watercolor will provide the student with a solid base to build their own painting experiences upon. Group critiques will be featured each week to provide the student with an opportunity to develop their powers to talk about their work in a supportive environment. This course is for anyone who desires to acquire a mastery level of rightness in watercolor painting while balancing it with a healthy desire to play and experiment with the medium.
Requirements / Prerequisites
Course fee does not include materials.
May your New Year be Fearless and filled with many successful paintings as you reach for the stars!
Michael E. Vermette
Coordinator of the Plein Air Connection
Comment on or Share this Article →
---
---
---